Harry Styles is a dreamboat, that's a fact, he dresses like a young Mick Jagger and his hair is perfection. We all fawn over Harry, but a lot o this style looks amazing on ladies too. His outfits are pretty versatile, and he uses a lot of the same pieces. Good for him. Keep being a babe Harry.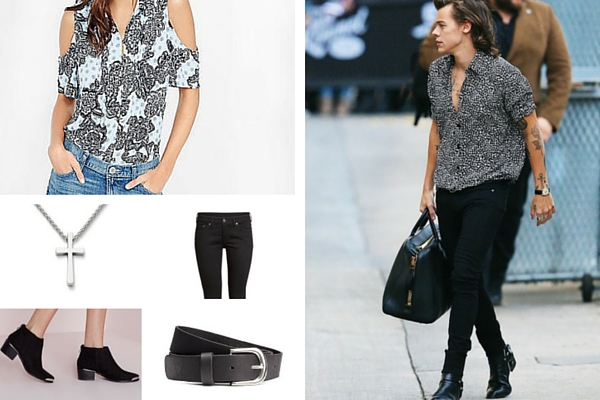 Let's start with this casual, classic Harry outfit. It's pretty simple but it's the styling that counts. Start with a short sleeve shirt, and unbutton it as much as you feel comfortable, I liked this one because it had that Harry feeling, but a little more feminine. Add some of the skinniest pants you can find. Slap a belt over all of it. Add a cross necklace, like this classic from James Avery. I can't see his feet but I'd bet money they are some slick ankle boots.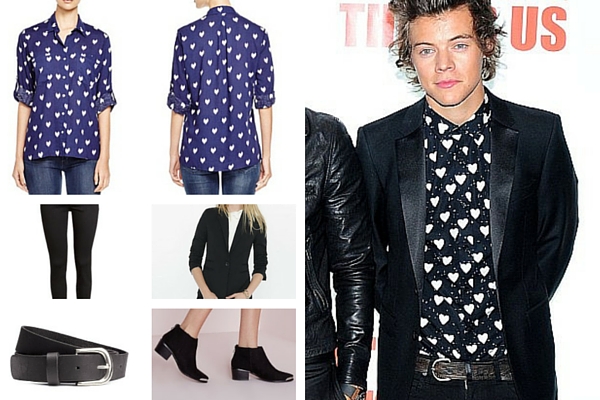 This one takes a lot of balls to pull off. It's a classic Harry look that he interchanges with different shirts. The real trick is finding a blazer that fits you like a glove. I love this blazer and I wear it all the time. Get this shirt and button it all the way up. Add your skinny jeans, a slick belt, and then add your classic Styles booties.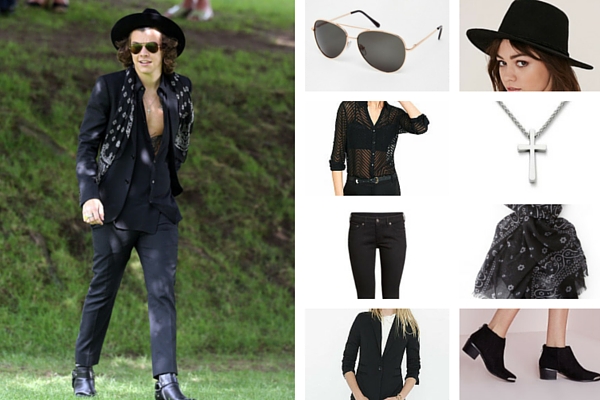 The most Harry Style style. So many accessories Harry! The trick again, is that amazing blazer. Instead of suit pants I'd go with black jeans. Instead of a solid black shirt, I went with a sheer shirt to womanize it a bit. These gold aviators are perfect. Then add a scarf, and hat. Finish it with your go-to black booties.
[widgets_on_pages id=Emily-Treadgold] [adsense]
[adsense]