About The New Nine
I grew up in the nineties. My first experience with fandom started with The Spice Girls. Did I necessarily like the music? Not really. I debated which one I wanted to be with my friends (Posh Spice, obviously) and I felt like part of a team. There was nothing more exciting and fun than singing "Wannabe" with my friends. Those same friends later turned into Backstreet Boys fans and, after that, NSYNC fangirls (which I never got into). I was interested in other music like The Beach Boys and The Beatles - but a fangirl nevertheless.
I have made most of my friends in life based on their musical taste. You learn new music through your friends, you go to shows together, and you go to festivals together. Half of my social interactions in high school were waiting in lines outside music venues. We were there for the music, the interaction with like-minded people, and to experience the artistry of the performer.
Fangirls have always been looked down on as silly and frivolous and, I believe, for that reason they've been ashamed to express themselves. Yet, fangirls are some of the only people who still buy physical albums, wait in lines, and spend countless dollars on merchandise. When will we acknowledge that fangirls are vital to any successful musician?
As a music journalist, when I go to a show and hear the term "groupie" or "fangirl" being dropped with negative connotations, I am shocked. Where would these artists be without fangirls? No one would buy their records and no one would come to their shows. I'm sick of hearing bands say they want more of a male fanbase. I'm tired of people talking down to young women. Fangirls are the new muses. We are the tastemakers and influencers that are defining our music and therefore our culture.
TheNewNine.com is a place to experience original content from a uniquely fangirl perspective. Together, we control the music industry.


Emily Treadgold
Editor in Chief
The New Nine
---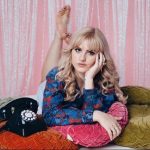 Emily Treadgold