Amber Wilson's dreamy voice and her vulnerable lyrics are a pairing that makes her music unforgettable. Trancey, cosmic melodies that are meant to just live in your mind. We talked to Amber about her self-titled debut EP and what it feels like to have it out in the world.
Tell me about your EP, "Amber" what's it like having it out in the world?
Amber: "Amber" is my debut EP. It's a four-track project that I feel accurately portrays how I was feeling coming out of a tumultuous year in 2020 and resurfacing at the top of 2021 back into myself. It's the best feeling in the world having these songs out because I held on to them for quite a while. It's been extremely enjoyable to watch people receive the songs and take them as their own to carry them through their own experiences that they may be struggling with in private. It's the best feeling for sure, and I'm proud of how the whole project turned out.
Is there a particular track that feels extra personal for you?
Amber: I'd have to say the opening track "I Don't Wanna Be Lonely" is the most personal track for me. At the time, it was the most vulnerable I had been in a song. I remember being extremely nervous to share it. Once I got in the studio, though, and started producing the instrumentation for it, I think that's when I truly fell in love with it. I realized that I couldn't be selfish and that I had to release it. I'm so glad I did. I've had a ton of people tell me how much that song means to them and how timely it was for them.
What has been one of the biggest challenges for you in the music industry?
Amber: My biggest challenge has been struggling with comparison as I grow and advance in my music career. I find myself taking breaks from my phone and social media way more than I ever have as a woman in her mid-twenties compared to when I was a teen. I'm constantly reminding myself that my beginnings are special and should not be measured to someone who has been at it longer than I have as an indication of my success thus far.
How have you been staying motivated to create this past year?
Amber:  When I am on social media, I get encouraged by seeing how people respond to my music. One day, I was on TikTok, and a girl messaged me saying that she and her family had been going through an excruciatingly hard time and that she was thankful to have my music to bring her through that. For me, at the time, I had a ton of doubts about if my music was making an impact, and when I saw that message, it broke something off of me, and I just started crying. Long story short, it's just comforting and reassuring to know that people care about my music and what I'm doing. At the end of the day, that is enough to motivate me.
What else has been inspiring you lately?
Amber: Poetry has been inspiring me to write lately. I'm a big fan of Charles Bukowski, D.H. Lawrence, and Courtney Peppernell. I think the kind of poems that make you sit and think for a while are the best pieces of literature that inspire me to make high-quality music for people to experience in the same capacity.
What's your best piece of advice for young women?
Amber: Never apologize for taking up space. What you have to say and the message that you carry matter. There is an audience for you so go for it. Don't apologize or worry about what people will think, and have a ton of grace for yourself. It's okay not to have all of the answers upfront, and you should never feel sorry for that.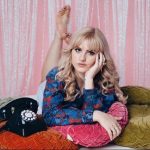 Emily Treadgold