After years of flexing her songwriting muscle in Los Angeles and finding her niche as an artist, Carol Ades is bulldozing her own path within the music industry. 
The New Jersey-born singer/songwriter is currently on her first tour with Lizzy McAlpine and recently released her latest single, the melancholy "Sadtown USA", which is the first in a trilogy of songs and music videos that Ades has been working on for years. 
Carol Ades' diaristic approach to songwriting is a breath of fresh air, and her vulnerable lyricism proves her a force to be reckoned with in the music industry. Even if you're not yet familiar with her name, you've undoubtedly heard her work. Ades boasts a multitude of songwriting credits for mega superstars like Demi Lovato, Selena Gomez, and more.
 After years of penning songs for other artists, she's ready to take the stage herself. 
I was honored to be able to interview Carol Ades and pick her brain about the touring lifestyle, her songwriting process, and what we can expect from her next. 
You're on tour with Lizzy McAlpine, which is so incredible! I'm a huge fan of both of you. How's that going? Any pre-show rituals before performances? 
Carol: Thank you! It's been so exciting. It's the first tour I've ever been on, so I didn't know what to expect, but it's better than I could've ever imagined. I love Lizzy, and her fans are so receptive and kind, and I really feel like it's the perfect tour for me 🙂 It's so cool to meet fans every night and remember they are real people. It's not just all about Spotify or TikTok. It's about connecting with real people one on one. After I sound check, I usually go find Lizzy and her band in the green room, and we all hang out and chill. Then 30 minutes before my set, I get dressed into my outfit, and right before I go on, I do a little self-talk ritual thing 🙂 and then I go on stage!
Can you tell us a bit about your songwriting journey and how you got to this point today; touring with Lizzy McAlpine, releasing "Sadtown USA"? How did you hone in on your distinct voice as a songwriter? 
Carol: My songwriting journey has really just been the journey of my life so far. I moved to LA 7 years ago in pursuit of being an artist, and I fell into the songwriting community randomly! When I realized you could be a songwriter, I felt so drawn to that idea and identity and really dedicated the next four years of my life to trying to be the "best" songwriter. I think I just truly put in 10,000 hours and learned to trust my voice and my narrative and make better choices quicker. By the time I realized I'm not just a writer, I'm an artist too, I had been writing nonstop for five years and learned so much about myself, and the skill, and everything sort of came together when it was meant to 🙂 It's been a very windy road to get to where I am now. 
Is there an artist, song, or album that prompted you to start writing? Who are some of your biggest inspirations/dream collaborations?
Carol: The things happening in my life prompted me to start writing 🙂 I've always used writing as a way to work through my thoughts and internal dilemmas. I also just loved pop music growing up and was obsessed with melody and creating melodies, so I think those two things combined have led me to my own style of writing. My biggest inspirations are probably Kacey Musgraves, MUNA, The Japanese House, Imogen Heap, and Ben Folds. Just beautiful storytellers. 
You've written for so many other incredible artists as well. Is your songwriting process any different when writing for other artists versus writing for yourself? Do you prefer one over the other?
The process is a little different! If I'm writing with another artist in the room, my main focus is making sure their story is being told, and they feel safe and comfortable. I will try and relate to it in my own way so I can access the best emotions, but sometimes you just don't relate, and it's more about helping guide them through their own stories. Sometimes I'll write a song about my life, and it'll end up going to another artist too! They're such different experiences, so I don't think I prefer one over the other it depends on the mood I'm in.
I love "Sadtown USA" so much. The lyrics are so poignant and relatable. How did "Sadtown USA" come to be? What inspired these lyrics and, more specifically, the title?
Thank you so much 🙂 I was actually just in the studio with my best friends and co-writers Lauren Aquilina and Marcus Andersson in June of 2020. They're so brilliant, and we write almost everything together. I was joking about how sad I'd been and how fucked up everything in the world and in my personal life was feeling. I was complaining very loudly and jokingly said I'm in Sadtown, USA, baby!!!!! They laughed, and I said can we write that song? And they said yes, sure you weirdo, and we wrote it, and it's one of my favorite songs I've ever written. 
It's so vulnerable releasing music with such personal lyrics. How do you deal with the vulnerability of putting these songs out into the world for everyone to hear?
Carol: I think releasing it is definitely the most vulnerable part of making music for sure! You can control what you write, but you can't control how other people perceive it. I like to think of it as a giant practice of telling the truth. All my songs are my deepest truths, and writing is honestly the only space I have where I feel like I can tell the complete truth because I'm writing it for me, and only I know when I'm lying or sugarcoating. But most songs come out a year or even more after I've written them, so the emotions aren't as present as when I first wrote them, which makes it a lot easier to embrace the process. 
Can you tell us what else to expect from this new era of Carol Ades?? Whatever it is, I can't wait!!
🙂 I have two more songs coming out pretty soon and intertwining music videos for each of them! I've been slowly putting together what is probably an album for years, so I'm just in the middle of figuring out what that looks like! I am also working on a really special musical project that I'm so deeply excited about. There are SOOO many things coming, and I feel like this new era is on the edge of something really special as the carol world expands 🙂
Carol Ades is one of the most promising and exciting up-and-coming songwriters today, and we're super excited to see what she else has in store. If you haven't already, be sure to stream "Sadtown USA" and some of our other Carol Ades favorites on Spotify today.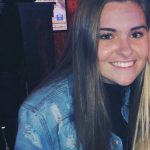 Grace Kuraska
For as long as I can remember growing up, music was constantly blasted throughout the house. My parents' love of music introduced me to pop and rock idols and icons of the past, setting me up for a life of fangirling over a confusing range of artists, from Fleetwood Mac to One Direction (still mourning the loss of the latter). I could spend hours at a time binge listening to albums, and researching new artists. Follow me on insta @gracekuraska.