ellie d.'s brand of chill pop is so addicting. Her sweet, effortless voice is so soothing but her writing is so personal, it hits hard. We talked to her about quarantine heartbreaks, being vulnerable, and the challenges she's faced.
Tell me about your new song "Miss You" what's the story behind it?
ellie d: "Miss you" is about real-life quarantine heartbreak. I wrote this song about a week or so after things ended with a guy I had been seeing. Things got intense pretty fast, and I felt like it ended out of nowhere. I just didn't understand what had happened. I was incredibly hurt, and with quarantine, it was even harder. Honestly, the writing for this track just flowed. I sent a demo to my producer, and when he sent back the first pass, I teared up. In the moment, I was hurt, confused, and still missing this person. However, when we finished the track and the final master was sent back to me, I felt closure. I look back and can't believe how hurt I was in the moment. That's the thing with time. Suddenly, one day, you are completely fine again.
This song is your most personal track yet. How does it feel putting it out in the world? Are you nervous?
ellie d: I'm very nervous! It was my in-the-moment, emotional vent sesh. I am, however, also really excited! I think everything in life happens for a reason. Even though I was in pain, I ended up writing a song that I'm extremely proud of. So there's a positive! Vulnerability is all part of being an artist. I hope people can relate to this song no matter who they are thinking of or missing.
What's your best way to get over a heartbreak?
ellie d: Oh boy, haha, I think distraction and amazing friends. Start focusing on yourself and make fun plans, so you have things to look forward to. Meeting someone else also helps sometimes 😉
How has the past year impact you creatively? Is it hard to stay motivated?
ellie d: This has by far been my biggest growth year in terms of my songwriting, sound, and overall artistry. As much as this past year has sucked big time in many ways, the time in quarantine also gave me a chance to really hone in on my sound. I'm proud of how far I've come and I'm excited about the future. This has helped me stay motivated.
What has been the biggest challenge for you in the music industry?
ellie d: I think being taken seriously. I have been writing and putting out music for the past few years and have noticed how much connections and numbers help. It's hard when you are an independent artist, don't have that name yet, and don't have a giant team surrounding you. However, I know I just have to keep working hard and be as authentic as I can!
What's one artist that you've been obsessed with lately?
ellie d: Leyla Blue!! I love her voice and cannot get her song "Gasoline" out of my head. She's so cool!
What's your best piece of advice for young women?
ellie d: Stay true to yourself and try not to compare!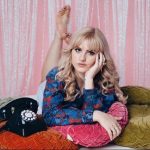 Emily Treadgold