Amber Ais just speaks directly into your soul, when we say she's relatable we mean it. It's like your best friend dishing you incredible advice. Her music is the perfect Y2K-laced pop that we all dream of and we just can't get enough. We talked to her about breakup advice, our favorite 2000's pop, and the challenges she's faced in the music industry.
How did you get started in music?
Amber: I've always loved to sing growing up, and I have been singing in church since I was about 3 years old. For a portion of my childhood, my mom was the director of the children's choir and kind of forced all of her children to be in it, but I didn't really mind because I just liked to sing so much!
When it came to songwriting, that started so early as well, I was never athletic or good at anything except music, lol so sometimes I would even write songs at recess which is super lame looking back on it! Very early on, I think music was planted in my childhood, but it wasn't until I was in high school that I really wanted to pursue it as an actual career. I'm a Christian, and I believe that God gave me this gift not only for myself but for others and for His glory, so the more I grew in my faith, the more passionate I became about making music. I later went to Berklee and majored in songwriting that also just pulled so much drive out of me as well. I was super inspired by my peers.
Tell me about "Better Without Me" what's the inspiration behind it?
Amber: So, I was really S A D. Which is usually the start of all my songs, but one of my friends reposted something my ex-boyfriend was doing, and I decided to creep on his Instagram for some reason after like YEARS of never looking at him or talking to him. I SWEAR it was only ONCE since like 3 years ago. But seeing him be happy made me feel like crap. Which I guess is the reason why people tell you not to creep on your exes!
I just felt like he was doing a lot better in life than I was. He just seemed like he was so cool and doing awesome things, and I still work at a coffee shop and live with my parents. Your mid-twenties are weird because you feel like you should be doing more with your life and that if you're not successful right out of college then you are a nobody and inadequate. Comparison is honestly the thief of joy, but everyone is where they're at in life for a reason. I did write a pretty sick song though!
What's the best way to get over an ex?
REMOVE THEM FROM YOUR PHONE IN ALL WAYS. UNFOLLOW THEM. MUTE THEM. MUTE THEIR NAME IF THEY HAVE MUTUAL FOLLOWERS ON TWITTER. UN FRIEND. BLOCK THEM IF YOU HAVE TO. DELETE THEIR NUMBER. DELETE THEIR MOM'S NUMBER IF YOU HAVE IT. OR THEIR SISTER'S OR WHOMEVER YOU MIGHT HAVE A CONNECTION TO.
Cry
Surround yourself with really great friends who make you laugh, encourage you, and understand when you're not completely over it.
Look hot even if you don't feel like it.
Make a baddie playlist and dance to it OR cry to it OR dance AND cry to it. "Man I Feel Like A Woman!" by Shania Twain and Bodak Yellow always do the trick
Cry
Give yourself a pep talk about how you are deserving of real love.
Repeat steps 1-7
For me prayer along with all of those things, made me get over all my exes and heal my heart.
I also love the 2000's vibe! Who are your favorite artists from that era?
Amber: Oh my Gosh, I have so many! I grew up listening to NSYNC and the Backstreet Boys, so DEFINITELY them. Disney Channel also influenced me a ton, so I wanna say that The Jonas Brothers and OG Demi Lovato are my favorites as well. I was also an intense Miley Cyrus and Hannah Montana STAN back in the day and still know all the old Hannah Montana songs. For my very light emo phase, I would say Paramore because Hayley Williams is a perfect singer, and I would play the Riot album on repeat in 2007.
How have you been staying motivated/creative lately?
Amber: For me, my experiences in life keep me creative. I think that in a season where I'm not writing as much, just living my life gives me material to write about. I also listen to artists that remind me of why I make music, and the people who inspired my early years always kind of spark that creativity in me again. Remembering your why and who you make music for actually is what keeps staying on this path in really hard times.
What has been one of the biggest challenges for you in the music industry? 
Amber: There are so many! One of them is being an indie artist with no team. That's hard because everything I do is out of pocket, and I have to create my own fan base. But for me, one of the biggest challenges is being put in a box as a black woman. I get rejected a lot, and partially I know it's because of my race. A lot of people expect Black women to just do rap or r&b, and while I respect those genres, I just want to do what feels the most genuine to me. People want to be inclusive nowadays, but their inclusivity is limited to what they want you to be like, and that's not fair. It's almost like, "Yeah, Black girls are magic...ONLY if you act like this, sing like this, and make music that sounds like this."
What else has been inspiring you lately? 
Amber: This is kinda funny, but dating apps LOL I have been trying to go on dates, and if they don't work out, I'll just write a song about them. So if any guy on Hinge sees this, I have probably written a song about you. I also have been inspired by growing up and the idea that my twenties are weird, and I feel like I'm having an identity crisis. So yeah, dating trouble and a quarter-life crisis!
What's your best piece of advice for young women? 
Amber: My best advice for young women is to really discover who YOU are, what YOU actually like, and who YOU want to be. And I want to emphasize the word BE, not DO. We are not what we do but who we are. Yes, I love making music, and my dream is to be able to be an artist and make music forever, BUT I think I want people to know me for being kind and genuine as well. How many times have we discovered that extremely talented musicians are actual trash people? SO MANY TIMES. How you operate in your day to day is just as important as what you want to do. So discover who you want to be.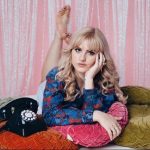 Emily Treadgold