Courtney Paige Nelson's dark pop vibes are exactly what we want in a song. I'm pretty partial to pop with a hint of danger, and "Cease And Desist" has that in spades.
"I don't know what death feels like," she begins, the song builds and builds intensity, her ethereal voice drifting over a looming beat.
It's clear that she's the villain in her own story, and she bodies it. Her sultry voice pulls it all together, and it's twisted but so so catchy. This is the song you listen to when you're totally in your zone, it radiates confidence, but with the edge you need.
You may know Courtney Paige Nelson from her time on ANTM, but there's so much more depth to her. She brings this authenticity and eccentricity to her music that's so unique. She's definitely one to watch!
Follow Courtney Paige Nelson on Instagram and Spotify to stay tuned.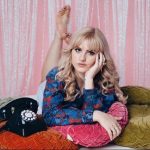 Emily Treadgold