Olivia Rodrigo isn't a name you might have heard before unless you're embedded in the world of Highschool Musical: The Musical: The Series, HSMTMTS, a layered world of Disney that only the most die-hard fans know about, but when her song "Driver's License" hit the music charts last Friday, we got a taste of who she's going to become.
"Driver's License" is an ode to late-night drives through suburbia trying to get your mind off your first love, the one that will shatter your heart into a million pieces, and you'll spend your life trying to make sense of it. Young love is like a trainwreck, all-encompassing with big feelings that nothing can compare to. Olivia's debut song found a way to bring all of those feelings back whether you're living through it now or reminiscing about it. Her details of the flashing lights, the almost uncanny sense of being surrounded by beige houses, and un-ending sadness that you can only escape on a moonlit drive through nowhere.
The teen drama surrounding the song involves a love triangle of Disney stars, Olivia's ex, but it's not about him, it's not about the other girl, who seems to resemble everything she's insecure about. It's about Oliva and her moment. The song quickly skyrocketed to #1 on iTunes and Spotify, a feat that's so rare for a new artist's debut.
With storytelling reminiscent of Taylor Swift (who gives Olivia her stamp of approval) and dark-pop notes of Lorde, Olivia might be precisely what 2021 needs, a new defining female voice. It's almost too relatable. She's speaking to her direct demo. It's nothing unattainable, just a driver's license, heartbreak, and driving through the same old place with new feelings. In a year where we're all living in the routine monotony, it's good to know that what seems mundane can be dramatic, heartbreaking, and even life-changing.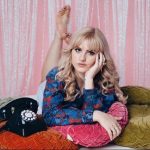 Emily Treadgold