Being in a music video is something I never thought I would do, but when Mae Deline asked me to be in her bunny-themed video I said "yes" but I wasn't super excited. I've never been 100% confident about my body and like most people, was hella nervous to be on camera half-naked. When I arrived on set and saw the stunning variety of body types, I still felt nervous, but it was absolutely freeing to dance around in Mae Deline's strange world. The song and the video took on new meaning to me, it's about acceptance and love and feeling confident. Mae Deline's message is about not dimming your light, and I think it's something we all need to remember.
First off, how did you get started in music?
Mae Deline: From an early age I would sing at any chance I could get: in the school talent shows, at neighborhood picnics, family reunions and in church. My mom got me my first guitar at age 15 and in a years time I had written and recorded my first studio album in downtown Milwaukee. It was around this time I decided on a career in music and dedicated all of my free time to playing in bars and clubs, competing in singing competitions, joining musical ensembles and writing songs to stake my claim in Los Angeles by the time I turned 18.
Tell me about the meaning behind "Multiply"
Mae Deline: Creating "Multiply" began as a way for me to express and embrace the side to my personality that is flirtatious and overtly sexual. I have never been ashamed to speak openly about my sexuality or my kinks. I have a lot of pride in who I am. But that pride wasn't always received well by my peers. In my young adulthood, my willingness to explore and talk openly about my sexuality lost me friends and respect. For a long time I let people dim my light. I felt pressure to become more conservative or feel shame for my sexuality. Making music is one of many ways I've learned to get over that shame. I've since realized that my willingness to explore, to be open, to be free with my sexuality isn't shameful; it's as powerful and natural for me as the ocean tides.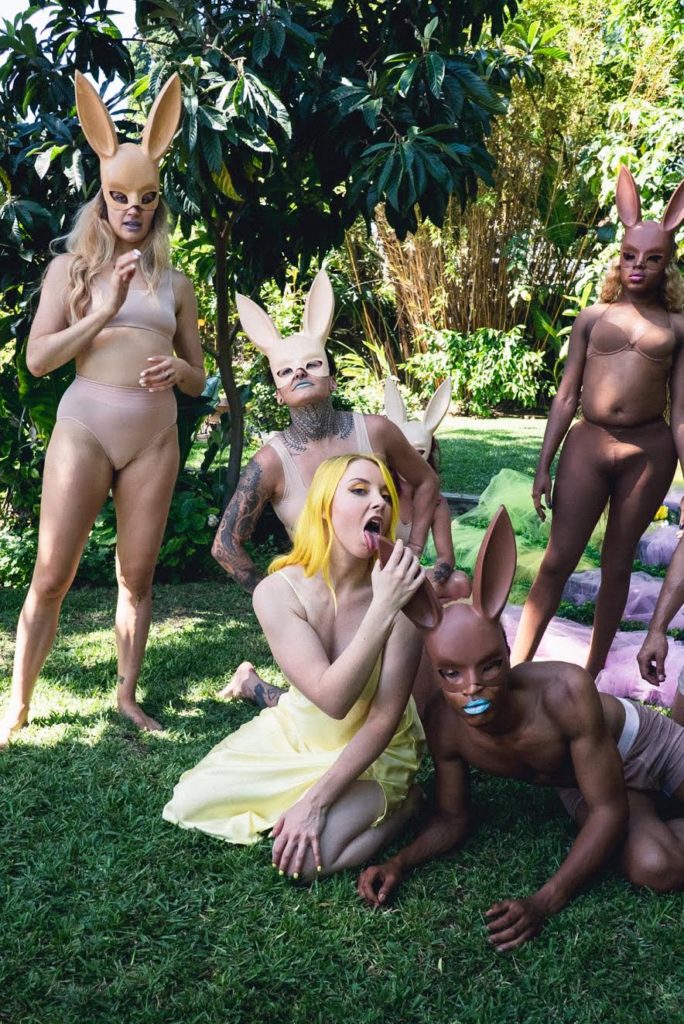 What's the story behind the video?
Mae Deline: The bunnies in the video represent innocence and sexual impulse. When I started to become a woman discovering my sexuality, I felt shameful, like I was losing a part of myself and my innocence. In reality you can still be a sexually active person and not lose anything at all! The protagonist has the head of a bunny and the body of a young woman. She feels shameful and misunderstood and longs to find the people who will accept her. She runs away from home and embarks on a journey to find her utopia: a bright and colorful sexually liberated garden party with people who resemble her (dressed as bunnies) but also different in their own unique way. They welcome her with open arms and celebrate their uniqueness and their sexuality. 
I loved that all body types were represented! I know that wasn't even intentional but why is that important?
Mae Deline: It was very important for me to represent different races, shapes, sizes, gender identities and sexual orientations. We are a diverse human race and we have more in common than we think. I wanted to portray that diversity in the video. On the day of the shoot, I felt so at home with all different bodies surrounding me. I could have felt insecure about my own body on camera but looking around at everyone in their wonderful uniqueness I felt like a beautiful piece of that puzzle. It's nice to feel beautiful and appreciate everyone else's unique beauty.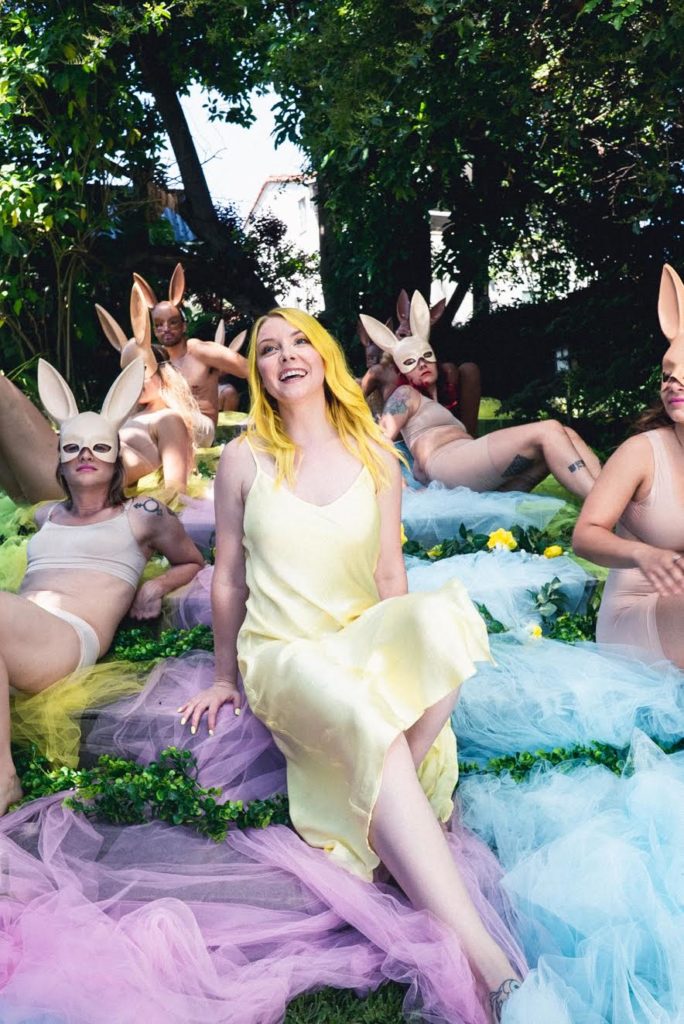 What's the one message you want people to take away from your music?
Mae Deline: Take back your power! We live in a misguided society with some messed up priorities, but you have the capacity and the strength to take back what may have been lost. For me, music is one way I've been able to heal from my past. It is my hope that through my willingness to share openly about some of the difficult things I've gone through, that people who may be going through something similar would feel hope that they can get through it too or at least feel like they're not alone. 
What's your best piece of advice to young women?
Mae Deline: Listen to your gut when it says "this feels uncomfortable" or "this feels wrong" and don't question it for a second. People need to earn your trust. It's not your job to be a martyr. Protect yourself and prioritize your own well-being first. Don't ever feel pressure to have sex with people if you really don't want to. As awkward as it may feel to reject someone, to say 'no' or walk away at any given moment, you have that right no matter what. Please, honor intuition because having sex, giving someone your time, or your energy when you really don't want to, will destroy you and it will be a long, confusing, heartache to repair. You have more power and importance than you might have been told or believe about yourself. I promise.
Follow Mae Deline on Twitter and Instagram to stay tuned and watch her amazing video now.
[widgets_on_pages id=Emily-Treadgold]