I'm always just a country girl at heart, and always down for hearing the latest from the new crop of women in country. Siena is one of those artists that just radiates authenticity, her new song, "A Moment Of A Memory," hits hard. It feels so genuine. We talked to Siena about what drew her to country as a genre and the challenges she's faced.
Siena, how did you get started in music?
Siena: I think like every kid, I started singing along with the radio and tried to remember the lyrics to all of my favorite songs! I also was in choir during grade school. I loved singing so much, I wanted to continue that journey. I had my mother put me in vocal lessons, from there I started performing around Las Vegas where I was born and raised.
What drew you to country music as a genre?
Siena: From a young age riding in the truck with my mother, she always had the country station on. I relate to it because it sings about things I did growing up like riding horses, driving trucks, climbing trees, driving side x sides, all the fun outdoors stuff. I also loved how country music tells a story. I always imagine it from the singer's perspective in my head when listening.
Tell me about "Moment Or A Memory". What's the story behind it?
Siena: I was in a writing session with my co-writer and producer, Don Miggs. I was telling him about someone I met one evening that left a really great impression on me. I then expressed that I wasn't sure if it was something that could come to fruition or he was just going to be a memory. Don said "Sometimes they are moments that one person will forget after a while, but to the other person, it's a memory that'll last forever." Therefore, we had a song!
What else has been inspiring you lately?
Siena: I find inspiration being outdoors, spending time with my horse, and listening to old stories from my elders. I feel I'm an old soul at times, therefore I feel I can relate to them and how life used to be. Artists like Fleetwood Mac, Miranda Lambert, and Linda Ronstadt inspire me in their songwriting and how they use their voices melodically.
What has been one of the biggest challenges in your career?
Siena: October 1, 2017 I attended the Route 91 Country Music Festival in Las Vegas, NV. That night the biggest massacre happened and I was caught in the crossfire. While watching Jason Aldean on stage, we all heard some sort of shots but weren't exactly sure what it was. When people started falling to their fate, I knew what was going on. While trying to run out of the premises, dodging bullets, my friend and I somehow made it to safety, for others, they didn't get so lucky. A week later I was asked to sing the national anthem on national television to open a benefit concert, Vegas Strong : A Night of Healing. It was held at the Orleans Arena which holds about 10,000 people. Coming from a large crowd where my life was almost taken to a week later singing in front of another big crowd was definitely the scariest and hardest thing I've done. I did it because I wanted to show America and my Las Vegas community healing and respect our fallen.
To add on to that, what is one of the biggest challenges particularly for women in country music?
Siena: Being a female in the country music industry is definitely challenging. I think the general listener is quicker to put on a male song because that's what's being pushed more. It's my job to keep writing great songs that get traction while also being true to my sound and who I am.
What keeps you motivated?
Siena: My biggest motivators are my parents. They have supported my journey in so many ways from taking me to all of my voice and guitar lessons, gigs, rehearsals, it means a lot that they saw my passion from a young age and stuck by my side. I'd also like to add my management team, they work so hard while staying dedicated and I appreciate their investment.
What's next for you?!
Siena: More music always! I'm so excited to be releasing new songs as summer comes around. I really do love the storytelling side of music, so I can't wait to share them!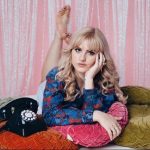 Emily Treadgold