There is a definite chance you've already heard SHY Martin's work before, perhaps without even realizing it. The Swedish pop sensation is a prolific songwriter, boasting credits on tracks for The Chainsmokers, Bebe Rexha, and Ellie Goulding. With the unveiling of her own independent record label in March 2021, SHY Recordings, she's forging her path as one of pop's biggest rising stars. Her new single (out April 9th), "Remember You Were The One", showcases a darker side to SHY Martin and her music, proving her versatility as an artist. The single will also be released with an accompanying music video created by SHY and her brother Hampus Hjellström in his apartment. SHY Martin is a force to be reckoned with in the industry, and her music proves just that. We were lucky enough to chat with SHY Martin about her latest single, musical journey, dream collaborations, and more!
I understand that you first established yourself as primarily a songwriter, writing for other artists. Do you feel that there's a difference when you're writing for another artist versus when you're writing for yourself? Do you have more freedom one way or the other? 
SHY Martin: I always try to approach the creative process the same way. For me, the song and the vibe in the room comes first. I want everyone in the room to feel equally heard and involved in the process, so I try not to think too much about if the song is for me or not during the writing. Instead, I focus on having fun and whatever emotions are in the room. At the end of the session if I feel like the song isn't for me, it's hopefully still a great song that might fit another artist.
How did you get your start in songwriting? And when did you decide you wanted to be the pop star instead of writing for pop stars? Who are the artists or songwriters that have had the biggest influence on your career and your artistry?
SHY Martin: I've written songs since I was a kid, but it was first when I was 20 I started studying music at a songwriting school in Sweden. It was during the time I went to that school I wrote 'The Ocean' - Mike Perry and 'All We Know' - The Chainsmokers together with Nirob Islam that started off my career as a songwriter. Realizing Ed Sheeran, Tove Lo and Ryan Tedder were not only writing for themselves as artists but also for other artists really inspired me to also do both.
You've already worked with many notable artists and producers in the industry, which must've been incredible. Who are some of your dream collaborations? 
SHY Martin: I feel very fortunate that I've gotten the opportunity to work with and release music with both artists, producers, and songwriters I look up to. I think there are so many new cool artists at the moment. I'd love to work with Tate Mcrae, Gracie Abrams, Jeremy Zucker, Kid Laroi or Conan Gray at some point.
Your new single, "Remember You Were The One," delves into a darker pop sound. How did this song, and this sound, come to be? What was your songwriting process like for this single? Is this darker vibe something we can expect more of in the future?
SHY Martin: I wrote the song together with Hampus Lindvall, Litens and Julia Karlsson last November in Stockholm. We had a few days together, and this song was written right before we left the studio on the last day. We were just playing around with different sounds, and we all really loved the grungy guitar. Growing up, I had a long period where I only listened to emo-pop/ rock pop like My Chemical Romance, Paramore, Linkin park, etc. I love experimenting with different genres, so we'll see!
What other upcoming projects and ventures can we expect from you?
SHY Martin: Lots of new music. It would be a dream to finish an album, so that's something I'm working on. And hopefully there's more music coming out with other artists as well.
SHY Martin is a creative and impressive force as both a singer and songwriter. There's no doubt we'll be seeing more from her for years to come. Keep an eye out for any upcoming projects from SHY Martin, and be sure to stream her new single, "Remember You Were The One" out now!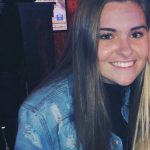 Grace Kuraska
For as long as I can remember growing up, music was constantly blasted throughout the house. My parents' love of music introduced me to pop and rock idols and icons of the past, setting me up for a life of fangirling over a confusing range of artists, from Fleetwood Mac to One Direction (still mourning the loss of the latter). I could spend hours at a time binge listening to albums, and researching new artists. Follow me on insta @gracekuraska.