Taylor Castro's dreamy vocals, with the pulsating beats and ethereal melodies, make "Breathe" unforgettable. She's definitely an artist to watch, this song will get stuck in your head and has a really important message: don't let anyone walk all over you. We talked to her about the new song, pandemic rage, and how she's been staying motivated.
How did you get started in music?
As a child, I was always writing and singing. I even made some pretty awful songs on Garageband. I got into it professionally when I just made the decision one night. I realized there was no reason I couldn't pursue it, and that nobody was going to show up at my doorstep with an offer.
Tell me about your song "Breathe"; what's the story behind it?
It was the culmination of a lot of things, really. I essentially felt trodden-over by someone I put on a pedestal and I had had enough of it.
I love the idea of pandemic rage, I FEEL that, how do you calm yourself down?
Ah yes, we're in the same boat. I've done a lot throughout the pandemic to calm myself down and grow. I started working out, running, reading books, making art, educating myself, trying to garden, and creating little edits of my favorite films or tv shows.
What has been keeping you motivated this year?
For me, every plan always has an end goal of bringing something to the table. The dream is to inspire young people like I was inspired by others and usher in a better tomorrow.
What has been inspiring you lately?
Storytelling in general has been a huge inspiration for me lately. All I've been doing is investing myself into either consuming or creating stories through the mediums of music, screenwriting, poetry, film, and even everyday conversation.
What has been one of the biggest challenges in your career?
I think creating a cohesive brand that matches who I truly am has been a difficult process because it means finding a team of people who understand, accept, and believe in you.
What's your best piece of advice for young women?
Society often sees masculinity as the only avenue for strength. It's important to understand that there's also strength in your femininity and to fight for society to see it whenever they fail to. You're a princess, a queen, a goddess. Every single one of you are. You're it.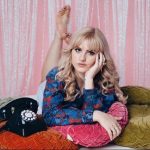 Emily Treadgold