Queuing in line for hours in the rainy, cold December streets of New York City stood hundreds of fans hazy with anticipation for Surfaces to perform a sold-out show at Gramercy Theater. There is no truer sign of promise for an up and coming artist than a core fanbase that shows devotion beyond dedication. For Surfaces, the fans are everything. "It makes us feel good when we can make our fans feel good. And we always say that we hope that they're better people walking out than walking in," says Colin.
Talking to Surfaces, a duo comprised of Colin Padalecki and Forrest Frank, shed some light on what makes them tick and their unique approach to music.
Forrest describes their music by saying: "It's like if you took like Stevie Wonder, Jack Johnson, maybe watered them down a little... and some Sugar Rae maybe, and then some modern production and hip hop." At the end of the day, though, they both work together as a team. By taking a moment and representing its power with a mix of pure lyrical poetry and strong music production, these boys emerge fans into serenity and an overwhelming understanding of emotion. Colin and Forrest, together, are masters of communication through the power of music.
Colin said bringing Surfaces together was through passion and growth. "I finally met a person who was as passionate about music as I was and we built off of each other and helped each other grow in many facets of music." Colin's passion was evident from the moment he took the stage. It was mirrored by the Forrest's energy and together they hit the crowd with unmatchable and engaging performance. Bounding from the stage, they fully immersed themselves into their fans, welcoming to the beginning of an unforgettable night.
From beginning to end, Surfaces used their platform on stage to inspire and impress upon their fans the importance of happiness and good vibes. The smile on their faces and the love in their hearts seemed to naturally reinforce this. The music Surfaces puts out and performs is all centered around a new era of passion and a golden feeling of joy. Surfaces is a breath of fresh air in an industry too often driven by greed.
Forrest explained the power that he hopes the shows can bring to a fans life. "People can change and situations can change in a day. It always happens in a moment and this day could be that day. This moment could be that moment. I feel like that's important for us to at least tell our fans." Surfaces expressed how important the pursuit of positivity in their music is to them and how they hope that all of that can be transposed into their fans lives.
With their new single, "Bloom", out now, the band is leaning into their sound even more. With a new album in sight, fans can expect them to push the boundaries a bit. "I think fans can always appreciate when you're not trying to box yourself in and you're trying to branch out," explained Colin.This particular song, though, is another example of Surfaces taking a moment and expanding it. He gave the backstory of "Bloom":
"We were actually at a lake house for the summer writing music all summer long and we were outside by the lake and we were just trying to encapsulate how that day was going because it was just a beautiful sunny day, a bunch of green, a bunch of water, a bunch of beautiful colors. We were like what's a word that could encapsulate a moment like that and we thought Bloom was that word and we kinda ran with that word and made a chorus out of it and wrote a song out of it... it kinda just blossomed. "
The Warm Winter Tour is not yet over either. If you're going a bit crazy in this snowy winter, then be sure to snag your tickets to a show near you, soon. There's no better way to warm up than to the beautiful California energy that these boys deliver to you.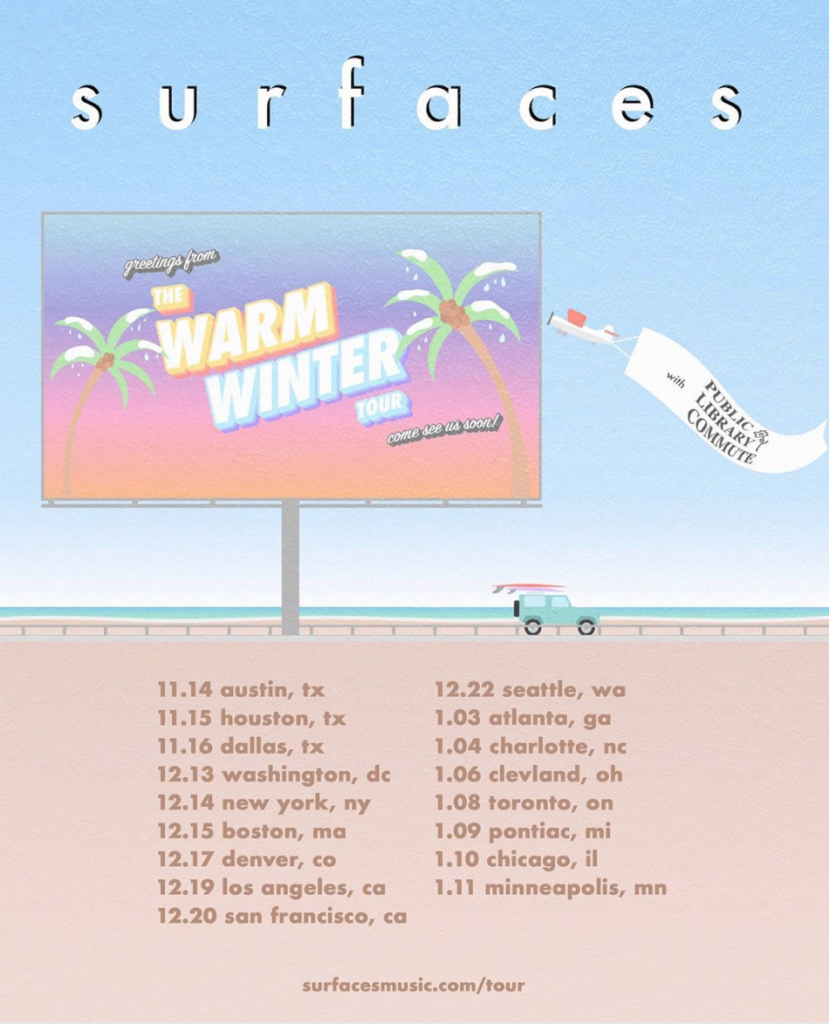 Looking to the future, the duo has applied the same sort of easy-going and laidback attitude that sets them apart. Forrest says his goal is "just to make good music and see where it goes." It looks like they'll only be going up from here.
[widgets_on_pages id=Alex-west]
[widgets_on_pages id=Ali-fitzgerald]