I'm constantly reminded of Lorde's break onto the music scene. Her anthem "Royals" was catchy and beautiful in its simplicity, but more than that, it emphasized something so rare in music. The song is about the lack of wealth and, more importantly, the lack of even the desire for wealth. 
People say the only songs that sell are songs about love and partying, but here was Lorde parading the opposite. Even her appearance, her wild hair, and her dramatic facial features are the opposite of the hoards of models that dominated the pop charts. Lorde was the weird girl at your high school that should never have been famous.
We idolize celebrities, and if we idolize them too much, it can be destructive. Lorde shows us that the weird girl can make it too. She's essentially a glimmer of hope for all the girls who didn't fit in. 
All of her singles have been poetically written and relatable without feeling overdone and cliche. Her sound is unique, and her voice is instantly recognizable. She can sing about sex and love without it being surface level. She can pinpoint and the exact moment of heartbreak and build a whole song around it. The melodies aren't something you'd hear out at a party or a bar, but disarming and mesmerizing. Her music felt dangerous and far more mature than her peers at the time.
After Pure Heroine, people thought she had disappeared, that she was a one-album-wonder of sorts, but Lorde didn't buy into the album release machine. She always knew her fans would be loyal to her. We don't want her to make us something just so it's timely. We want to wait. When people were pining for an album, she commented, "Give up on me if you want to! I'm an artist, I write a record when I have enough special stories to tell, and it's all me, every melody every lyric, not some team who just start the machine up every eighteen months like clockwork."
I remember people saying "Greenlight" was a stray from her dark and edgy Pure Heroine days, but I think it was a step in a new direction for her. I don't think she's lost any of her edge or darkness. Melodrama was one of my favorite albums that year it came out. It felt so relatable to me, the pain, the loneliness, the little memories of my exes that would sneak up on me. 
Lorde made sad-pop, to me, something to be glorified and loved, something I can cry-scream in my car. She paved the way for so many artists that exemplified this feeling of what we all know now as "sad girl" music. 
We need Lorde, and the music industry needs her. We need her to maintain her awkwardness and her weirdness and keep applauding it and basking in the authenticity she radiates.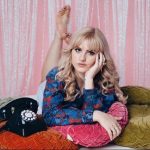 Emily Treadgold