Lily Forte is a master of writing songs that feel so relatable. Her new song "Bottle Blondes" is a different take on the idea of changing yourself, it's a statement on remaining true to who you are, and it's laced with the shimmering melodies and vulnerable lyrics Lily is known for. We talked to her about the new song and how she stays motivated.
Let's talk about your song "Bottle Blondes" what's the story behind it?
Lily: I wrote Bottle Blondes in February of 2022. This track is about identity, love, and loss. When creating it, I wanted to capture the imagery of losing someone, while not wavering on who you are after they're gone. As a young woman, I constantly feel the need to change myself for love, but in this track, I embrace what makes me who I am - "I'll dye my hair black for forever."
I loveee the video concept, can you tell me about the making of the video?
Lily: Thank you! Through the trials and tribulations of changing yourself to fit in, there comes the point where nothing feels more right than being yourself. It takes strength and courage to stand alone, and in this video, we take viewers on a journey through fake friends, blonde hair, and freeing moments through song. To me, this video speaks for those who have ever felt the need to change themselves to fit in and understand that there is strength in standing alone and being who you were meant to be.
What else has been inspiring you lately?
Lily: I've been revisiting Uta Hagen's Respect for Acting, and that has sparked inspiration in me. I find it interesting the similarities between an actor and songwriter- especially when it comes to being aware of your surroundings. Both an actor and a songwriter observe what's around them and use it to serve their craft. I guess I love the idea that all art forms stem from something similar, and we're not so different from one another.
What songs have been on rotation for you recently?
Lily: I've honestly been obsessed with Chappell Roan recently. All of her songs have been on shuffle.
What keeps you motivated?
Lily: Moving to LA and living here has really kept me motivated. Everyone is out here fighting for their dream, and it's only inspired me to work harder and push myself more than ever before as an artist. I also appreciate the camaraderie from those around me and all the collaborators I've encountered since moving here- they really inspire me as well.
What has been the biggest challenge in your career lately?
Lily: Recently, a challenge I've been facing is quite simply writer's block. Every artist has experienced this at one point or another. It's happened before to me, and eventually, a song brings me out of it. I always have to remind myself that I always have it in me. Just sometimes, I need to dig harder than before. I usually like to revisit old albums that inspire me, so recently, I've been listening to a lot of Folklore by Taylor Swift.
What's your best piece of advice for your younger self?
Lily: I wish I could tell her that not getting what you want can, more often than not, be the best thing for you and that taking a break/resting is just as important as working hard.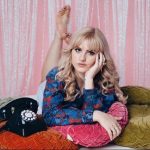 Emily Treadgold