PLASMIC's bright pink hair and eye-catching aesthetics immediately caught my attention. Her new song "Ghosted You" feels so fresh and original, the shimmering melodies and immaculate production just send this over the edge. We talked to PLASMIC about the meaning behind the song and where she gets the inspiration for her original aesthetic.
How did you get started in music?
PLASMIC: I joke that Britney Spears was the reason I started singing cause I sang "Lucky" at a radio Disney mall contest at the age of 3. Unfortunately pre-phone camera era, so you'll just have to believe me that the crowd went crazy. I got second place and won a life-sized Britney poster. It was the Pepsi campaign one.
I always loved singing and playing piano as a kid.
A family friend Ed Donelly gifted me his old MacBook, and I started producing on PreSonus Studio One when I was 15. My parents got me a mic and interface, and I never looked back.
Tell me about your new song "Ghosted You" what's the story behind it?
PLASMIC: "Ghosted You" is an unrequited Queer love story. I wanted to write a love song that didn't make me cringe. It captures the perspective of the person being ghosted and the ghostee. It was important for me to tell both sides of this story because while being ghosted sucks, you never know what the person ghosting is going through. The Ghoster also takes accountability in the track, which I think is very important.
I love your aesthetic so much! Can you tell me some of the influences behind it?
PLASMIC: I love mixing femininity with androgyny. I'm basically a human troll doll.
The look for the ghosted you album cover and the music video was inspired by Zeule from ghostbusters and Carol Anne from Poltergeist.
My fashion inspiration ranges from James St James, a lengthy list of anime characters, and your grandma's closet.
What else has been inspiring you lately?
PLASMIC: Lately, artists like Jackie Extreme, Fever Ray, and Play have kept me inspired and motivated to push the envelope.
What has been one of the biggest challenges for you in your career?
Conquering imposter syndrome. It still lingers from time to time but I feel I'm really able to believe in myself more than ever. This was my first time working with another producer and I thought people were going to judge me for not being in the drivers seat. I'm grateful to have worked with Martin Cooke on this track and feel he helped me bring it to the full potential. 
I think Charli XCX said it best in her Netflix series "I work with a lot of men, and that does not make me a less empowered woman. I'm empowered because I'm empowered."
What has been one of the highlights?
PLASMIC: Opening for Soft Cell and Missing Persons was definitely a highlight. I try to remind myself of that when I'm feeling down. Also playing shows with my talented friends.
What's your best piece of advice for women in music?
PLASMIC: Stick together. There's no competition. The industry wants us to kill each other, so why give them that? All my favorite artists and producers are some of my best friends, and I'm so grateful for their sisterhood and allyship. Lift each other up. Never compete. We are allowed to coexist together.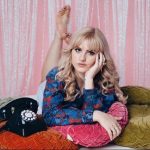 Emily Treadgold