Gemma Laurence's new song "Lavender" is the perfect example of her incredible story-telling lyrics and ethereal voice. The song is a beautiful message to her friend and it's highlighted by intricate instrumentals that feel so dreamy and nostalgic. We talked to her about the meaning behind the song and the important of forming a music community.
How did you get started in music?
Gemma: I've been playing music for so long. My mom said I used to sing in the crib. I more seriously began writing music in college, and I never thought it would be a career because I wanted to go into academia. My dad's a professor, and my mom's a writer. I was an English major, Philosophy minor, and I got really involved in the open mic scene at Middlebury. I just loved it; it was such a small community but so tight-knit. Everyone was so warm and welcoming, and supportive. I just kept writing and performing and living in New York and going to open mics. 
Tell me about "Lavender," I love the story-telling aspect of this song. 
Gemma: I wrote it two years ago for my best friend when she came out, it's a song celebrating her, and it's celebrating our friendship and her growth, but I also wanted it to be more universal to the queer community and the trans community honoring the excitement and the amazing things that can happen when you're happy with yourself and the hardships as well. I know I had a hard time doing that in college. Even though I was surrounded by wonderful queer people, something was sitting uncomfortably in me, and I wasn't comfortable enough to do that until I was about 21 years old. I wanted to weave this narrative and let it grow and become larger.
How did your friend react when you showed her?
Gemma: She loved it. She called me afterward crying. Over the pandemic, I wrote it on my banjo. I sent her this folk demo, and when I got to the studio, it felt a little too sing-songy, so we made it more of a rock song. 
What has been one of the biggest challenges for you in music?
Gemma: I think honestly, keeping at it. I think patience has been one of the hardest things. I wrote a lot of these songs over the pandemic, I was really eager to put them out, but I wanted to put them out right. I've been sitting on these songs for about a year and a half, and I wanted to be intentional about when I put it out and who I wanted on board to support me. 
Did the pandemic set a lot of things back for you, or was it more of a productive time? 
Gemma: It turned out to be a good time for writing. I don't know what I was planning. I graduated from college in February 2019. I was ready to move to New York and start waiting tables and forming a band, but I moved home to Maine and started writing songs and putting an album together. 
How do you stay motivated?
Gemma: It just comes down to making music that makes me happy; sometimes, I feel exhausted from the promotional stuff and constantly putting myself on the line and marketing myself. I think just re-centering sometimes and focusing on the music and making music that feels genuine to me feeds my soul. Having a band of all queer women in New York, it's such a blast getting together to rehearse. It's just fun, and we're just making music. They're all so incredibly talented, and it gives me life.
Having that sense of community is so important. I think a lot of people dont recognize how crucial a local scene is. 
Gemma: It's so isolating if you're just focusing on the social media stuff and in your own head. I always knew I wanted to make a band. I write folk music. I don't want a backing band; I want friends and finding those people is so important.
Gemma: A lot of people can be obsessed with the outcome. It's goal-based. At the end of the day, we're musicians. We're artists; we should make art. If you're making art that feels authentic, people will find it. I know I should be like on TikTok, but it doesn't give me a lot of joy. I just don't care. People will come to my shows because I'm going to shows and supporting them, then they'll come to my shows because it's a community. 
I feel like as much as I love TikTok, it's a double-edged sword because I tell people to love the community they're building, but it's hard when you don't have a local scene. It's so helpful to have that local community.
Gemma: You join social media at the heart of it to make connections and have friends online, and that's still happening. I find a lot of people feel like they're shouting into the void. There's a whole community of bad queer femme musicians on TikTok. 
How do you feel about there being so much music right now? How do you deal with feeling competitive?
Gemma: Focusing on my journey and knowing everyone else is on their own journeys and they're completely separate from mine has helped me a lot. Maybe they come from a similar situation as me, but now they're touring with a huge artist. Some people are probably looking at me that way because I ended up on Jimmy Fallon; things happen in a crazy, cool serendipitous way. Everyone is looking at someone and wishing they were in their shoes. It's natural to compare yourself to other people, but you need to know when those emotions don't serve you.
What's your best piece of advice for young women?
Gemma: Hold your ground; keep trying. It's not going to happen overnight. Very few people get discovered or go viral overnight. It's about putting in the work and knowing the reasons you're in this.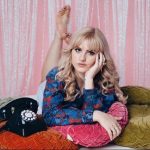 Emily Treadgold