Skyler Cocco's shimmering melodies have been on loop since I first saw her on TikTok. Her new song "Stranger" feels so dreamy and ethereal, it transports you to another world. I talked to her about new music, how she stays motivated, and what's been inspiring her lately.
Hi Skyler!! How did you get started in music?
Skyler: It all started on an 8-track in my parents basement when I was 11 years old.  My dad had a DIY recording setup and since I was too shy to sing in front of people I learned how to produce myself so I could record my songs alone.  I self-released music on Myspace and Bandcamp until I attended the music conservatory at Purchase College where I started to get more serious about having a music career.  A couple years and a pandemic later, here we are.
Tell me about your song "Stranger." What's the story behind it?
Skyler: Stranger was written with Dominic Florio, an amazing producer/writer/artist/friend in NYC that I was introduced to through some mutual friends who thought we would work very well together (they were right) We wrote Stranger the day we met and it ended up being a premonition to my breakup with my partner of 9 years.  On the surface it's about the bittersweet feelings surrounding a breakup and the need to distance yourself from the other person and become a "stranger" in order to move on.  For me personally, I relate in many ways to this song despite being on good terms with my ex.  The most relatable part is how haunting the good and bad memories can be, how it would be so much easier to move on if I could rewind all the time we spent building a relationship that would eventually end.
What's your writing process like?
Skyler: Generally I write alone, but for Stranger and my forthcoming EP I started to work with trusted co-writers who understand my sound and are keen on telling my story authentically.  These songs are definitely the most honest and raw I've been with my songwriting, so it's important that we're using concepts and snippets of my personal life to stay true to my story.
What has been one of the biggest challenges in your music career?
Skyler: Accepting that the "viral fame" that has launched so many new artists is almost always about luck.  I've been prone to getting super depressed after releasing music because it doesn't reach the audience I had hoped for but I'm trying to reshape my mindset and stay confident in the music I'm making.  Stranger is one of the first songs that I'll let people play at parties in my presence instead of begging them to turn my music off.  I genuinely love it/love all the songs written for my EP and I'm hopeful that once it reaches the right audience they will be loved even more.
What else has been inspiring you lately? 
Skyler: My friends who are absolutely slaying in music right now.  I just played a show at Brooklyn Made with Tanners, Lexxe and Eva Rose.  I am obsessed with all of their music and feel honored to be sharing a stage with people who inspire me and have all the potential to blow up.
What keeps you motivated?
Skyler: Being an artist is a childhood dream of mine. I keep going for that 11 year old who couldn't sing in front of their own parents and think "look how far you've come." I had always wanted to move to California and I'd love to tell that girl she has a music career and her own apartment in LA with a studio that she built herself. She'd go nuts!
What's your best piece of advice for young women?
Skyler: Surround yourself, work with and uplift AFAB/women in music.  We all know the music industry is still so far behind when it comes to making space for/including women in the room.  Take it upon yourself to uplift the women who are trying to change that, give them the credibility they deserve so we can collectively wake everyone up to the powerful and talented women who deserve a fair shot in this industry.
Keep up with Skyler on Instagram, TikTok, and Spotify.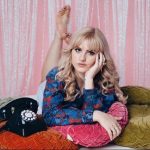 Emily Treadgold