INJI is literally taking over the music world right now, her music has been so inescapable and it's just brimming with this unmatched energy that I can't get enough of. Her writing is so clever and youthful and she is just making a moment with each track she drops. We talked to her about where she gets the inspo for her insane lyrics, her social media prowess, and why you just need to go for it.
How did you get started in music?
INJI: I started with classical piano at 8 when I enrolled to the Istanbul University Public Conservatory. For 10 years, I studied classical piano and music theory and competed internationally. I never won though... so had to pivot! I was always a singer, but of jazz. I spent my high school years in jazz bands, acapella teams and church choirs.
I sang all my life, but never made dance music until my first song "GASLIGHT." Made as a joke and a purely personal project, it took off! So now I'm a proud and lyrics-obsessed dance-pop artist.
What was the moment you realized this could be your life?
INJI: I don't think I've had it yet. But I'm sure the moment I taste the euphoria of a headline show, I'll never go back. I've known since I was a kid that I am happiest on and belong to the stage, but I never thought I'd get lucky enough to be heard. I'm really grateful for the chance to sing to those who want to watch me.
Tell me about your new song "BORED" what's the inspo behind it?
INJI: I just love life. I see the fact that I'm alive and can do basically anything as a blessing, and I try to find beauty, happiness, and fun in everything around me. I know the song is critical and sarcastic, but it's ultimately my way of telling people "DON'T BE BORED!! GO DO STUFF! THERE'S SO MANY THINGS YOU CAN ENJOY!!! GO ENJOY IT!"
The inspiration was mostly some people I met at college who complained about everything, never saw the beauty in life and always worried that their life will suck after college when they start a job. The song is just the stuff I wanted to tell to people who bring themselves and other around them down - don't, let's go have fun. But of course I had to deliver it in a funny way.
Where do you get inspiration from? Any fixations lately?
INJI: My lyrical inspiration almost always comes from a specific sentence I hear around me a lot those days.
"Gaslight gatekeep." "Madeline let's go" "Tinder's full of boys but none of them are the one" "Ugh I'm bored"
I take that sentence, put it in the hook, and then write a story around it! I'm extremely lyrics focused and lyrics are my favorite thing ever. It usually takes me a few weeks to finish writing a song because I want all the lyrics to be hilariously perfect.
I'm so fixated on Turkish samples right now. Expect a song with Turkish sounds and Reggaeton soon.
Who would be your dream collaboration? 
INJI: Nile Rodgers literally defined dance music and I would die from happiness.
What song do you have on constant rotation right now? 
INJI: Cheque by Don Diablo - it bangs so hard and rap on dance music is having a moment.
You're so good at social media, do you feel like TikTok is beneficial to artists or does it take away from your craft?
INJI: I know this answer definitely depends on the artist - but I think TikTok can be extremely beneficial.
TikTok (and other social media) is the sole way to market your music to millions of people without spending a dime. Musicians (of whatever size) are no longer dependent on label money to be marketed, you can reach masses from your bedroom. The playing field has never been this equal before.
Speaking of social, do you ever get tired of seeing people use your songs on their videos?
INJI: OF COURSE NOT! I literally get so happy and smile and giggle and comment on whoever I see.
I make these songs, and write these lyrics specifically for people to relate to them, giggle to them and feel to them. When someone connects with my song so much that they create something with it, it's the best thing I can experience.
What is your best piece of advice for women in music? 
INJI: I'll just give advice to the musicians who want to share their music for the world, but something is keeping them back. It's not done, or it's not the right time or etc. Put yourself out there. I literally put out a random ass 15-second demo. I never ever thought I'd be an artist, and here I am, there are people out there waiting for music like yours to come into their life, and they'll be so thankful that you shared it. Put it out there, queen.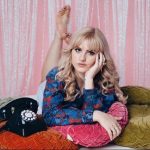 Emily Treadgold