I've been a fan of Cali Rodi for a while now and I'm a huge fan of her pop-punk covers on TikTok, her voice is just MADE for the genre. It has all the angst and raw emotion that we crave and she's just so passionate about her music. We caught up with Cali to chat about pop punk, her new song "The Girl Who Cried Love!" and dealing with industry gatekeepers.
Tell me about The Girl Who Cried Love! What's the story behind it?
Cali: "The Girl Who Cried Love" is a modern spin on the classic story "The Boy Who Cried Wolf." The song is about a girl who says "I love you" so many times to the wrong guys that when she finally falls in love, no one believes her. It's basically my autobiography from high school and being a serial dater (whoops). I wrote it with Marisa Maino, who is an incredible artist and songwriter in Nashville, and Max Weinik, who is a crazy underrated alternative producer that I started collaborating with mid-quarantine. We actually wrote this song over Zoom, and as soon as we were done writing it, I knew it had to be the first single off this project.
Your voice just fits it so well. Who was your favorite pop-punk artists growing up?
Cali: PARAMORE! Hayley Williams was the reason I wanted to sing. Weird flex, but I think I know every word to every Paramore song ever released. I was really into blink-182 (I have a song called blink-182 + u for reference), Fall Out Boy, Jimmy Eat World, and Hey Monday. I had posters of Avril Lavigne on my bedroom walls- I loved seeing a rock chick who played guitar and wrote her own songs. I also went to the same high school as The Summer Set, so it was really cool for me as a freshman just starting out to watch kids from my hometown go the distance.
Why do you think pop-punk is resonating with so many artists right now?
Cali: I think in all the madness of the last couple of years, people started reverting back to things that made them feel comfortable, and for a lot of people, that was the pop-punk music they grew up on. Most of the artists in their twenties, including myself, grew up listening to Warped Tour bands. I box dyed my hair in 8th grade, played in terrible garage bands, and picked boyfriends in middle school who were obsessed with Tom Delonge. I think now we all just want a taste of nostalgia.
I love how you combine pop-punk with other artists like Taylor Swift and Olivia Rodrigo. Why do those genres mesh so well together to you?
Thank you so much! I think the attitude of pop-punk music prides itself in being honest and totally blunt about how you feel, and both Taylor and Olivia do just that. They don't sugarcoat their feelings, so it's easy to channel the angst in their songs.
What have been some of the biggest challenges for you in music?
Cali: For so long, I was listening to various producers telling me how I should sing or what my music should sound like. Since they were signed to big companies, I assumed they knew best and listened to them. Recently I finally found the confidence to articulate exactly what I want in my music. I was always trying to impress the gatekeepers of the industry when all I actually needed to do was show up online and make myself heard.
What keeps you motivated?
Cali: Honestly, reading peoples' messages and DM's about how a song I wrote got them through a breakup or made them finally say "I love you," or how they think it's cool that I'm a female playing electric guitar on stage. That stuff really does keep me going.
What would be your best advice to your younger self?
Cali: "If he can kiss you, he can call you." - stole that from my mom 🙂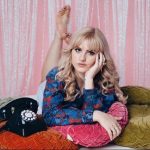 Emily Treadgold