Elise has the dreamiest voice and her songs are just so poetic and moving. It's exactly what you need to get you through the day. She just has this unique perspective and a sense of optimism in her writing. We talked to her about her new song, what keeps her going, and the challenges she's faced.
Elise! How did you get started in music?
Elise: I have grown up around music all my life and was introduced to it at a young age. I was lucky enough to have singing lessons and piano lessons and, you know, get to witness what goes on in the studio. So, I've always been kind of involved and in love with music and the music industry.
What was the defining moment where you knew this had to be your career?
Elise: Oh geez, that is a hard one… I think it was when I heard my dad play Julia's version of "Less" and I just tried singing it for fun, and it became something really great. So that's when I kind of knew that I was ready to dive into the world and try to make it as an artist.
Tell me about your song "Smile" what's the story behind it?
Elise: The story for "Smile" is similar to "Less" in that, you know, I was working with my dad and I wanted a song that was honest and spoke to real life experiences. Because I think that a lot of people in this time are struggling. And even though on social media, or even in person, people put on a brave face, I think that it's important to recognize that a lot of people are hurting at the moment, no matter what it's with. It was important to have a song that speaks to, you know, kind of the harder times of this virus, and life in general.
What has been inspiring/motivating you lately?
Elise: I think it's been the amount of time that I have. I think when you're given this much time and, you know, stuff in your house, you start taking inspiration from little things that you haven't noticed before. Even on my plane ride back from Norway, I had seats empty around me and I wrote down some random lines about there being a bunch of seats around me. Like, you know, it's random, small things that usually you wouldn't notice. I think that that's been something really cool, because that can bring you a ton of inspiration.
What has been one of the biggest challenges for you?
Elise: I think managing the time, although the time is an absolute blessing. I think that, you know, finding time to take care of yourself and do what's best for you has been difficult. Considering there's also schoolwork, since I'm still in high school, finding time to do that has been nearly impossible. The music is what I find the most fun but finding time and motivation to work on school and academics has been quite a challenge. Which is probably no shocker. Not that I liked doing schoolwork before either, but especially not now…
What is your best piece of advice for young women?
Elise: I would say my best piece of advice is… and this sounds extremely cliché… is to not let anyone else influence you or tell you not to be exactly who you are. Because in this day and age, I feel like people are a lot more accepting. And I think that if people were just truly authentic and themselves, I think that it would solve a lot of problems. It's important because that's how the truth kind of comes out, even in music. I think that if you're true to yourself and authentic, the best work is produced, and people will gravitate towards you.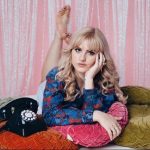 Emily Treadgold