FLAVIA's sparkling pop is accented with her realness and her activism. FLAVIA is relentless in her fight for trans rights and her song "Them" is an important anthem for pride month. We talked to FLAVIA about why this song is so important to her and what we can all do to support trans rights.
Tell me about the inspiration behind your song "Them"?
FLAVIA: I released "Them" in support of trans rights on Trans Day of Visibility. It was inspired by a specific romance I had with a trans-masculine person, but the video's intentions were to be inclusive of the entire trans/gender nonconforming/non-binary community. Through my relationship with this person, my eyes were opened up to how little I knew about the trans community beyond the surface. I'm very grateful for my time and experiences with this person, as I learned through their openness and my own new seeing how powerful language truly is, and how impactful a word choice can be for someone. Whether it's delineating between the use of 'chest' instead of 'breasts', or using someone's correct pronouns, it can be the tiniest shift in our language that makes someone feel seen, validated and respected. 
Why was it important for you to write a song supporting trans rights?
FLAVIA: I wanted to use my voice and my platform as a creative person in the LGBTQ+ community to be a better ally. But as a cisgender female, it was important that I was sensitive not to speak for a community that I myself am not a part of, but instead made my goal through the video to let the trans/GNC/NB community shine and represent themselves. The T in LGBTQ+ is so often wildly under/misrepresented in media, therefore I wanted to shed light and help raise awareness for the trans community specifically. It is so important that cis allies support and help lift up the gender-nonconforming communities that haven't been afforded the same opportunities as binary folks. It's with strength in numbers and using our own resources to help others, that we can truly make a change.  
What can we all do to help support trans rights? 
FLAVIA: There are many ways we can all do our part to make it a safer and more welcoming space for the gender-nonconforming community. Here are a few that come to mind!
Don't assume people's gender. Ask them their pronoun, it's important that cis people help to normalize the use of pronouns even if they feel their pronoun may be "obvious". By normalizing the use of pronouns we stand in solidarity with people who's pronouns are so often overlooked/misused/or misrepresented.
Stand up for the community, in public, and in private spaces. If people around you are speaking about trans/GNC folks in a negative way, let people know that that kind of rhetoric isn't appreciated and won't be tolerated.
A very simple way to support your trans/GNC friends is by giving them the clothes/jewelry/accessories that you don't use anymore! Often when trans folks transition they have to buy an entirely new wardrobe and it can be extremely costly. Giving your hand me downs can be a huge and very loving way to support someone. 
How have you been holding up in self-isolation?
FLAVIA: Considering the circumstances, I'm doing really well. I'm currently in Ireland back in the home I grew up in spending time with my family. I normally see them once a year so it's the beautiful silver lining to all this for me. I'm so grateful to be a creative during this time and to be able to channel my emotions through music and art. 
What has been inspiring you lately?
FLAVIA: I've been inspired by people's actions and kindness and our deeper sense of community through all this; by our time to slow down and reflect, and to spend time with family. I think the world needs art and music now more than ever.  
What do you have coming up this year? 
FLAVIA: Well. I was supposed to be touring and releasing an EP and album...but all that has changed significantly. I have a single called "Blue" coming out on June 12th for Pride month. Then I'll be pushing forward with single and video releases, but live shows probably aren't on the table any time soon. I'm in the process of filming a music video in quarantine that my sister and I are co-directing. It's a fun one!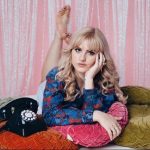 Emily Treadgold