Gracie Gray's dreamy new song "alienlover" feels like a whole other universe. Her ethereal voice and layered vocals just make this song. We talked to her about the new music, Instagram pressure, and why everyone needs a good support system.
How did you get started in music?
Gracie: My dad started teaching me guitar when I was five or six years old. My older sister was always ahead of what I knew musically, and it motivated me to practice and catch up to her. That competition ended up being a gift in a strange way. We still love playing music together. 
Tell me about your new song "alienlover," what's the story behind it?
Gracie: It's strange, but I'll try. In mid-February 2020, I had gone to a show at The Satellite. That same night, I had a dream that I was back at that show, and I was listening to the house music in between band sets. I heard my voice in one of the songs, and my friend said, "Listen, this is your song." I listened to it for a bit, then woke up, knowing it was a dream. Laying there in my bed, I started recording everything I had heard on my iPhone, and I demo'd it the next day. It felt easy to write like I had known the song and the story for a long time, but I had just forgotten about it. There are lyrics that don't make sense to me now, but I just recorded what I heard and left it.
How have you been staying motivated to create this year?
Gracie: I had to start asking friends for help finishing what I was working on. I was losing energy for it without the hope of playing together on a tour or an album release show, but they kept it fun in the moment and helped shape the sound in a really nice way.
What has been the biggest challenge for you in the music industry? 
Gracie: Definitely dealing with Instagram as a way of communicating and promoting. I'm not a visual artist. It's not how I express myself genuinely. It seems like the best way to let people know about my music right now, but it wastes so much time and creative energy as payment. I wish I could just delete it, but I know it's an important tool to utilize, especially when shows aren't possible to help promote a record. I just wish it didn't create these comparisons between artists, and I wish I didn't have to show my face in order to get priority on an algorithm. It all feels off-center to what I know my purpose is and how I want to spend my time. 
What has been inspiring you lately?
Gracie: Dreaming, and getting closer with my family again.
What's your best piece of advice for young women?
Gracie: Have at least one person in your life that supports who you are and who you want to be. And try to be that person for someone else in return. It's easier to let comparison pit us against each other. It's easier not to talk and not to trust. But I think we really need each other more than we realize.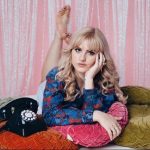 Emily Treadgold