Ella Rosa's sweet voice and hypnotic melodies just fit so well together. She just emulates this cool-girl energy that we can't get enough of, we talked to her about her cover of Sting's "English Man In New York," classical music, and the secret to a good cover song.
Hi Ella!! How did you get started in music? 
Ella Rosa: Hi There! Thank you for having me on here - I really love your guys' feed 🙂 I first got into music when I was learning opera at a young age. I loved classical music and still do today. I would do recitals every other week, and it really taught me not only the importance of strength and a musician but work ethic.
Tell me about your new song. Why did you want to cover a Sting song?
Ella Rosa: When I first moved to New York at 11 years old, I was really overwhelmed by the cultural differences that were not expected. I didn't really have a reference point and was a bit in the deep end. Sting put this experience beautifully for me, and I wanted to honor him 🙂
What's the secret to good covers?
Ella Rosa: I would say keeping the integrity of the song is very important, but also adding some spice of your own it's also fun. I like hearing people's alterations on music when I hear covers.
How have you been staying motivated to create over the past year?
Ella Rosa: I've had some really great friends and family supporting me this far, and It helps give me the courage to move forward and keep going.
What has been inspiring you lately?
Ella Rosa: I just went through a long-distance breakup which basically wrote the entire EP for me lol I have also been going through a lot of really important life changes this year, and that also added a lot of fuel to this project.
What has been one of the biggest challenges for you in your career?
Ella Rosa: Staying happy and confident when not many people want to see you this way.
What's your best piece of advice for young women?
Ella Rosa: Put the blinders on a push forward with strength. Leave your ego behind and let other women in on the journey <3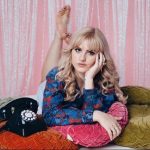 Emily Treadgold