With a radiating classical background, Jillian Mercé's technical style shines through in her latest song, "seventeen."
Getting lost in this chilling and dreamy track was almost too easy. The song, which Jillian says is "about someone who falls in love with someone else and sees the world through rose-colored glasses," places listeners right in the middle of a fog of confusion, paralleling the obvious storyline Jillian communicates. It's reminiscent of all the elusive sounds of EDEN's ​End Credits EP but is pierced by Jillian's beautiful voice that feels impossible to quite compare to anyone else.
It's obvious in her style that Jillian is inspired by the iconic Ariana Grande. In many ways, Jillian has infused her own music with Ariana's calming vocals backed by hypnotic beats and built from there to create her sort of lo-fi tune. Jillian explains: "I can relate heavily with her technical side, and knowing what builds and shapes music and knowing how to read and write music definitely helps with singing itself."
Jillian's strength lies in her ability to fully build, direct, and tell a story in the span of only one song. She starts her songs from their core and works her way out. She says, "I feel that writing a story first is easier than trying to write the song. Then, I figure out a way to configure the story into a catchy song."
In the case of "seventeen," it's clear that Jilian has created what can more accurately be defined as an experience than simply a song. This time, she was "able to experiment with vocals and harmonies and layering" in a way that helped create an immersive experience, setting anyone straight into the plot, heat, and emotion of the relatable storyline.
In many ways, it immediately transports listeners back to moments of their own life where they were experiencing the exact feeling of a shattered, idealistic vision.
"The song shows ... how you might see a person so differently, once sacrificing things for them and being distracted by their exterior and how you come to that realization that they might not be the best for you."
Part of the beauty of "seventeen" was the enchanting way that it brought a team together to create this particular art. Jillian explains, "When I hit plateaus, I just need someone to get me out and put me back into reality; I tend to have too much to write about."
Jillian called on a friend from home, Casey Marley Breidenbach, and one of her peers, Alyssa Garcia, to help with this particular track. She credits the "beautiful beat" and bringing her "vision to life" to Richard Pitchura. Jillian acknowledges that she thrives when collaborating. It's clear that this social aspect truly helped amplify this particular song and turn it into a multi-faceted and layered track.
But who is the woman who is ultimately behind this mesmerizing tune? Jillian Merce is a Drexel University student and at only 20 years old, has already amassed 90k streams for her song "On & On."
"I am grateful to have the opportunity to be able to pursue music while still focusing on my studies and having fun," Jillian says, and while this sort of balance is not an easy one, she is thankful to be able to fall back on the support of her parents.
"My parents support me in everything I do. I could live in a cardboard box, and they would make sure it was the best, prettiest, most comfortable cardboard box to live in. They inspire me to work hard and to never give up."
What sets Jillian apart from the rest is her experience, ability, and skill. Having been in and out of studios since the early age of 13, Jillian has been able to learn the technical side of what makes music tick and thus has the special talent of crossing genres seamlessly.
She says, "I can not only do indie bedroom dreamy pop music, but I can also sing R&B and pop music. It is important for me to be able to do multiple different styles."
But when it really comes down to it, Jillian's music comes off as a haze. The type of nostalgic haze of a humid night, driving just a tad too fast down the highway. In fact, Jillian proclaims that to define her music, she would describe it as: "scream the lyrics with the windows down ... type of music".
The song "seventeen" transports listeners to a dream-like state, and Jillian has her own dreams as well. "In five years, I see myself, already having made a hit song or album... finally having the chance to work with creators like Charlie Puth, Ariana Grande, Rosalia, and Clairo," she says. She plans to keep making music that helps to build a strong base and community.
And while COVID may have been a small barrier, Jillian is taking it in stride, with plans to keep pushing on. "After this song, I will be releasing more music and also acoustic versions of my current songs as well. I am striving to perform live for small audiences (safely) in the near future as well."
Beyond COVID, though, her biggest obstacle has actually been herself and her own nerves. "I am such a people pleaser," she admits. She hasn't let that hold her back but confesses that "it is so hard not to care what other people think of you or your craft when they are the ones that determine your fate."
By facing and overcoming these obstacles, Jillian has been able to create music that is relatable and authentic. She uses her strong vocals and ability to pair a genuine story with hypnotic beats to create music that is exactly what we need right now.
As an artist on the rise, Jillian stresses to those who have dreams like hers that "everything is a learning experience and not everything you put out will be successful."
However, I think in this case, "seventeen" will, in fact, be one of the successes in her climbing career.
<p class="p2">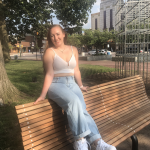 Alex West
I have a split in fangirl tastes. On the one hand, the moment One Direction announces a reunion tour, I will empty my bank account to go. On the other, I'm mourning the loss of Warped Tour. Recently, though, life for me has been all about traveling, watching shows, and writing. It only seems natural that I would find my way to the tour life since my mom raised me on Rick Springfield and NKOTBSB.I'm a big believer in fangirls and the influence we have in the world. As a political science major, I try to find that slant of empowerment in everything I do and know that music can change the world.