When you think of an artist like Britney Spears, it's hard to separate her in your mind from the cult-level following she commanded in the late 90s and early 2000s. Sure, Britney had vocals to spare, but her presence, audience, and fans were what determined her individuality. When you think of an artist like Amy Winehouse, you think of her vocals, especially if you were around during her "Back to Black" era. Her voice was what separated her from the masses of stars at the time. She had a stunning charisma and charming aloofness, but her technical talent defined her. Britney- the pop star presence. Amy- the once-in-a-lifetime voice.
Ten minutes into the first show of Kali Uchis's tour, I realized one thing.
Kali Uchis has both.
Following a dynamic opening by RAYE, Uchis made a rambunctious and electric arrival with "Telepatía," followed by back-to-back samples of her most iconic features, including "See You Again," from Tyler the Creator's "Flower Boy," "Get You" from Daniel Caesar's "Freudian" and "10%" from Kaytranada's "Bubba." This was obviously the right choice.
If you can imagine the most charged and participatory crowd you've seen, double it. Uchis's fans are diehard and did not come to mess around. Her near-perfect vocal runs were immediately met with a chorus of off-key screams, thousands strong. Not a word was missed by anyone around me. Kali Uchis absolutely has the appeal and authority of an early 'aughts pop star.
After a lively start, Uchis transitioned to her 2015 EP "Por Vida," a choice bolstered by intense crowd enthusiasm, especially during her performance of "Melting."
Mixed in were unreleased samples from her forthcoming all-Spanish album and a few covers, including "Rica y Apretadita" by El General. This particular performance was undoubtedly her most impressive vocal act of the night, which is truly saying something. Even in the outdoor venue with the threat of additional rain, her voice was as clear and effortless as if she were in a small, silent room. She carried all the power of an arena star with the clarity and warmth of an acoustic set.
Uchis closed out with "I Wish You Roses" right as the rain started back up. I kid you not; in a hilarious and almost karmic turn, the rain ceased completely as she began her final song, "After the Storm." It's hard not to believe someone is meant for greatness after watching the weather bend to their will. As a reward for braving the elements, Uchis encored with two acapella performances- "Love Between" from "Red Moon in Venus" and "Honey Baby," a wildly popular unreleased song. Both performances were short and spontaneous, with Uchis charmingly forgetting some words from the older "Honey Baby" while singing along with the front row. Altogether it was an intimate ending to her first show.
Could the show have been longer? Absolutely. Uchis's act clocked in at around an hour.
The whole thing was packed to the brim with songs and movement, which left me feeling a bit breathless and lost by the end. It was undeniably fun and entertaining but did rush in parts. For this, Uchis's backing dancers deserve heaps of credit. They were remarkable and acrobatic throughout, offering an artful layer to her performance.
Regardless of the speed, you couldn't help feeling as if Uchis was right there enjoying to concert in tandem with the crowd, soaking up the first night of her biggest solo tour.
Her joy was contagious just as her excitement was tangible, and it enhanced the experience tenfold. Through her obscenely impressive vocal talent and command of a worshipful fanbase, it's easy to assume that Uchis has no ceiling to her success. While she's already a Grammy winner, this tour is gearing up to be an accolade to her potential in its own right, and I consider myself very fortunate to have witnessed its beginning.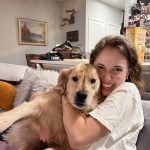 Alli Hall
Hi! I'm a writer, vintage seller, and nanny from East Texas. I've lived in Austin for 2 years now and am obsessed with the music scene here. I've been a music lover my whole life, and I'm always looking for a way to tell stories! I love seeing my favorite artists whenever I can, and keeping up with the lore behind why they make the music they do. It's a dream of mine to keep writing about music and media, and to see where it takes me!