L E A's sweet voice and vulnerable lyrics are laced with a hint of punk rock and it serves as the perfect mix of everything that makes her an artist. We talked to L E A about her new EP Jersey Boy and staying creative during the pandemic.
Tell me about your EP, Jersey Boy. What's the story behind it?
L E A: Jersey Boy is a project I have been working on for about a year. I had been releasing singles while this project was in the works but felt that these 4 tracks were so linear, they had to be packaged as "Jersey Boy." This EP is about going back to my Jersey roots and writing the music I grew up loving, adding a little more rocky and punky elements as I grow as an artist.
Is there a particular track that you were extra excited about releasing?
L E A: Honestly, each track has such a fun story behind it, but I think I was just ready to get the whole thing out there! So when I finally was about to release "Pebbles," I was so excited the release process had started.
How did it feel to finally perform live?
L E A: Amazing. I totally wasn't expecting to be put on shows so soon once the world started opening back up a bit, so it was thrilling and unexpected. This added a whole extra layer of excitement!
What has been one of the biggest challenges for you in your career?
L E A: Balance. Being able to run this ship all by myself yet still try and figure out how to navigate real-world things. Biggest challenge by far, and I always say it's worth it, but man, it's a journey!
How have you been staying motivated to create over the past year?
L E A: Oddly enough, I have been more creative than ever. I'm not sure if it was because people were taking well to my music over the pandemic, but I had so much going on that I was always busy with my music. I was able to have a fresh start and really do the music thing full-time, which was so creatively inspiring.
What's your best piece of advice for young women?
L E A: Don't let anyone tell you you can't accomplish something. Never give up! Just because you may take a longer path or do something the non-conventional way doesn't mean you won't make it to the finish line. Learn a lot and ask questions. It will get you pretty far!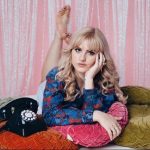 Emily Treadgold