There is nothing more important to us than supporting womxn in music, it's been our mission since day one, and we're all too well-aware of the problems that face womxn in this industry. Independent artists LACES, FLAVIA, BELLSAINT, and Amanda Brown, have all teamed up for "they say," an anthem of strength through resilience made for survivors. All of the artists featured have faced their own struggles and discrimination, and it's so inspiring to see them all come together for this.
How did you get started in music? 
LACES: I started writing poetry when I was 10ish? Eventually started making melodies for my poems, and my pop said, "You should probably learn to play an instrument." It wasn't long before I rented a guitar and googled "how to be an artist".
Tell me about the background of "they say"
LACES: Initially I wrote the song to be sung by someone else, but when that didn't work out, my husband really pushed me to explore releasing it on my own.
I think it's always hard to address this topic and do it in a way that doesn't feel too personal but still carries the weight. I feel really lucky to have written it with my dear friend Garen Gueyikian who allowed me to express all my emotions in a safe space.
Why was it important to team up with FLAVIA, Amanda Brown, and BELLSAINT on this?  
LACES: While this is a personal song, it's also a universal problem. It felt important to include other womxn who can lend their own stories, talent, vision, &  performances to the song. Standing together in solidarity with survivors is important and I am glad they felt ready to take that on with me.
What has been one of the biggest challenges in your career?
LACES: Life is a series of chapters and there have been many challenging chapters in my book. That being said, I think the biggest challenge has been the constant need to prove my worth and my place to those that hold the keys in the industry. That has always been a challenge, but one that I feel I have finally outgrown.
What keeps you motivated? 
LACES: I am constantly learning from those around me. I also feel a responsibility to leave the industry in a better place than what I found it in. Motivation to make it a safer, more equal and equitable business has been and will always be my mission.
What can we all do in the music scene to help womxn in music? 
LACES: Believe them, hold space for them, & create opportunities. So often we do the easy thing and reach out to someone we know, but it's important to reach out to those outside our circles. Also... be louder in support. I get a lot of private messages (men & womxn) cheering me on, but when in public they won't stand up. We must do better.
What's your best piece of advice for young womxn? 
LACES: Keep going and be yourself. I know it's cliche, but don't try to do it the way someone else has. It's the wild west out there, so it can be whatever you make it. What do you want? Once you know... do that.
Follow LACES, Amanda Brown, BELLSAINT, and FLAVIA on Instagram to stay tuned.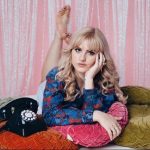 Emily Treadgold