Taylor Swift, her name alone, makes me smile. During the darkest times in my life, Taylor has been the one to keep me company. She has been the one to shine light in so many dark situations. She has a song for literally anything I may be going through, and I think that is why she is so loved. She writes with so much emotion and vulnerability that it makes us feel so connected to her. Sometimes it's really hard to express how much I love Taylor because it feels like there are no words to describe that feeling.
When Taylor announced The Eras Tour, I knew that I had to get tickets no matter what! I knew it was going to be hard, but I was not prepared for how difficult it would be to actually get tickets! After spending about 6 hours to try to get a verified fan code, I got very lucky and received one. Little did I know that it was just the beginning of a very long & stressful battle for tickets. Ticket sale day came, and I spent over 10 hours in the waiting room to try to get tickets. Every second was worth it because I ended up getting amazing tickets for night one in Nashville! Having those tickets felt like a dream. It felt like I had just won the lottery, and I felt extremely lucky!
The day of the show finally arrived, and it was literally one of the best experiences I've ever had in life. Never in my WILDEST dreams did I think I would see Taylor Swift perform live; everything felt so surreal and magical. From the moment I started walking towards the stadium to taking my seat, I felt like I was on cloud 9! Then the clock started to count down, and my heart started beating faster. Next thing I knew, Taylor was popping out of the stage, and the crowd went WILD! The whole night was magical.
I screamed I cried, I laughed, I smiled, I danced, and then I screamed again. Being in a stadium of 70,000 people screaming the words to every single song for over 3 hours has to be one of the best feelings ever! I will never forget a single moment from that show, and she will always hold a special place in my heart. Taylor Swift, thank you for being such a light in my life, thank you for writing music to my heart, thank you for being such an inspiration. Finally, thank you for being Taylor Swift!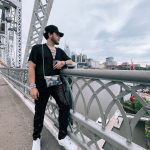 Eddie Torres
Hi, I'm Eddie! 24 year old living in beautiful Nashville, TN! Did I forget to mention that I am a big swiftie? Graduated from Belmont University with a Bachelor's in Creative Entertainment & music business! Currently working at TikTok! IG: ayoo.eddie