If you haven't already added singer-songwriter Natalie Shay to your latest Spotify playlist, it is imperative you do so now. Shay recently released her five-track EP, NAKED, as well as an accompanying music video for the titular track. The 21-year-old is a classically trained musician from North London, who uses her musical expertise to write and create catchy, energetic bops that tend to blend into the indie/pop/rock genre. You may have already caught her name in Billboard or heard her single, "Yesterday" featured in the popular Spotify's New Music Friday playlist. Whether you are already a committed fan or are just tuning into her now, you can be certain that Natalie Shay is a rising force in music today. We spoke to Natalie briefly about her background in music, her songwriting process, her latest EP, and what we can look forward to from her career.
Could you give us a quick summary of your background in music, and your overall journey to get to where you are today? How has your classical training and your experiences at the BRIT school shaped your artistry?
Natalie: I've been classically trained in guitar since I was 5, and also been doing musical theatre from around the same time. I think both of these factors definitely had a huge impact on my artistry, more obviously from my guitar skills but less obviously from the way musicals are written, I like to write songs that tell a story like a theatre song in a more subtle way, and also something I can perform through my facial expression. Going to BRIT did shape me as an artist but I do think more so as a person, I learned so much about myself but most of all I found my own voice and confidence. I was very shy before brit, it really brought me out of my shell, meeting so many different people with different talents and preferred genres really pushed me.
I love your single, "Naked"! It gives me such great old-school vibes. I see that the song is about the unraveling of a relationship. When it comes to songwriting, do you often look within and use your personal experiences as inspiration for your songs, or do you seek inspiration from the outside world through friends, television, books, etc.?
Natalie: Thanks so much! So glad you love it! Starting out, before I'd really had much experience, I did tend to write a lot more about other people's experiences / fictional ones. However, now, I do think that everything I write about is personal. Selfishly, I use writing songs as an emotional release for things. Capturing something in a lyric really helps me to understand my emotions and in a lot of cases has really helped me to totally 'get over' the situation or feeling.
I understand this is your first time utilizing brass instruments in your music. What prompted you to include the saxophone solo, which is such a highlight of "Naked", to tell your story?
Natalie: It was a real mix of things! We were already rolling with the 80s production vibes, and we had the discussion that we'd already used too many big guitar solos on the EP and wanted something different! we discussed various options, synth solo etc etc eventually we decided on a sax, as it has such an almost vocal singing style sound and can be played with such emotion, i do also think as it comes as the solo comes as such a surprise, it can really make your ears prick up. Billy Huband-Thompson played the solo and he's a very very talented young man!
What was your creative process behind your EP Naked?
Natalie: I never went into it to 'write an EP' . It was more, I wrote many songs in a very specific era/ time frame /headspace and I then picked the ones that musically fitted together the best to form an EP. The only thing that really ties them together as a running narrative is the fact that lyrically they all came from the head and heart of 20-year-old Natalie shay. I love how my music and lyrics can really document stages of my life in this way. This ep will always be extremely special to me.
Do you have a personal favorite off of the EP?
Natalie: I go through phases with every track, I think I've had them all as a favourite at some point! Currently, my favourite is actually 'Naked' as it was freshened up in my head through the release of the video, also bringing the track to life by giving it a visual kinda brings it to life in a new light.
Do you have any exciting upcoming projects for us to look forward to?
Natalie: Stay tuned for 2021, something is brewing 🙂
Be sure to stream Natalie's new five-track EP, NAKED, on Spotify today, and keep an eye out for her exciting new projects in 2021!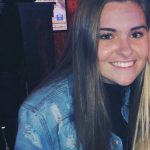 Grace Kuraska
For as long as I can remember growing up, music was constantly blasted throughout the house. My parents' love of music introduced me to pop and rock idols and icons of the past, setting me up for a life of fangirling over a confusing range of artists, from Fleetwood Mac to One Direction (still mourning the loss of the latter). I could spend hours at a time binge listening to albums, and researching new artists. Follow me on insta @gracekuraska.