Ellington is no stranger to the music world, he was part of R5, he's worked with The Driver Era, and he's toured and played major festivals. "Sun To Rise!" is his second single and you can feel the energy he brings as an artist. We talked to him about the inspo behind the song, what's inspiring him lately, and how he's been staying creative.
How did you get started in music?
Ellington: When I was young I saw School Of Rock and immediately wanted to play guitar. I also had a knack for drums so that kind of took over. I played in a few bands throughout high school, one of which ended up being R5 which then started the road to world tours and studio sessions and then led to work with The Driver Era, and now here we are today with me releasing my second single as a solo artist.
Tell me about "Sun To Rise!", what's the story behind it? 
Ellington: Sun To Rise! Is the first track I recorded for my solo project and is also the most rock leaning song that will be on my EP, while other tracks are more genre-fluid.  Sun To Rise! is about the moments you feel when your world is upside down, it happens to everyone, whether it be personal or a greater issue in the world, sometimes you just have to wait for the sun to rise.
How have you been staying creative lately?
Ellington: Honestly once the pandemic hit I was busier than ever but more in the realm of figuring out how and with whom I would release music. I met Mark Needham (mixer for The Killers, 1975, etc) and spent a lot of the beginning of the pandemic collaborating with him and getting mixes of the EP in, also while writing music. I released my first single, "EMT", in December and filmed a music video for it using an iPhone as the camera and my house as the set. I'll also be releasing a music video for Sun To Rise! which was shot only using flash photography, stop motion style, which will be coming out very soon. I like being creative with simple concepts, it's kind of an idea that I keep coming back to with this EP.
What else has been inspiring you?
Ellington: I love movies so, during the pandemic I've been trying to check off all of the big movies I've never seen, my favorites so far have been Midsommar, Dr. Strangelove, and Punch Drunk Love. I would highly suggest the three of those. I see movies and music as two art forms that can inspire each other, I definitely find inspiration in movies from score to the choices that a director or cinematographer makes.
What has been the biggest challenge for you in the music industry?
Ellington: Having a ten-year career in a pop band was great but once that was over it felt like I had to start from the very beginning, from learning how to fully produce a track by myself to figuring out how to get my music distributed and to get people to hear it, all things that when on a label, was taken care of for me. Also writing songs by myself, which at some points is amazing because you are the executive decision-maker but other times is the worst because creativity doesn't come every day and that can be depressing.
What's your best piece of advice for young artists? 
Ellington: Start NOW, but wait to release until you are ready. I feel like if I just started releasing every song I wrote in the beginning of my decision to go solo I would have regretted it. You'll know when you're ready but you have to really know, to the point where you can go up to anyone and say "Hey I wrote this and I think it's good, you should listen to it too." Especially with the internet your music could live forever, so make sure even if no one else cares you think it's special. No pressure though.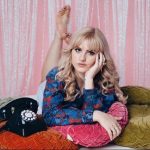 Emily Treadgold