KTJ & Carly have a knack for dreamy melodies and those perfect harmonies. Their music is pop perfection but with so much depth. The title "Identity" is perfect for the young artists who are finding out exactly who they are and what they stand for.
"Sell Your Soul" - Social media has become such a vital part of our lives, and it only makes sense that the theme of social media and selling your soul is the intro to this project. The line "in our quatervois we see cosmetic smiles and captions" is just the epitome of modern poetry.
"Let Me In" - Cellphone sounds are a constant theme during this EP, and I think that makes so much sense. I think our real relationships are with our phones. I think this song embodies the KTJ & Carly sound, it's so raw and honest and the shimmering melodies get to you. On top of everything, we get those angelic vocals and stellar production.
"Enable Me" - Definitely one of my favorites. It's such a sultry song, and they're really in their element here. There's a lot of power-play within the phrase "enable me" it's demanding, but it feels vulnerable at the same time. This song is hypnotic.
"Someone You Like" - I just cannot fathom how these voices work so perfectly together. It's magical, and I'm always blown away by it. "Someone You Like" is something we can all relate to, the feeling like you need to be someone else to be liked. You can sense those conflicting thoughts and desperation. You're always told to love yourself, but it can be a real challenge when you're dealing with so much pressure. The resounding "love myself" at the end of the song feels like a declaration and a reminder.
"Dead Person Talking" -Distorted sounds and heavy electronic influences make this one of the more experimental songs on the EP. The duo explores depression and the feeling of not fitting in, you want to be in the moment, but you just can't be. You can feel that despair but ultimately the strength to try to come back from the dead in a sense. You want to climb out of that hole and be back, but it's a tough thing to do.
"Almost True" - Such a bop. This song really shows off their story-telling abilities. This song is so haunting, and that chorus is insane. "Fake it till it's almost true" feels so relevant to modern life. We're all trying our best to make it, and sometimes we can't admit the full truth to other people or even ourselves. This song is just an emotional rollercoaster for me.
"Distractions" - This is such a perfect, cathartic release for the end of the EP. With shimmering synths and soaring vocals, this is the moment where you find yourself. The strength that permeates this track shows their growth and cements who they are as artists. Sometimes you have to work through a lot to find out who you are, and that's exactly what they've done.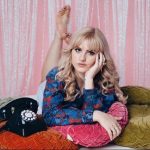 Emily Treadgold