Formed of cousins Jonathan Capeci and Joey Beretta, and drummer Nick Sainato, Nightly has been steadily releasing dreamy songs, and now we finally have their debut album. It's just what you expect, shimmering dreamy soundscapes with relatable lyrics and melodies that feel like you're getting lost in your mind.
The relatable aspect is paramount for the band. Frontman Jonathan Capeci says, "We just try to write about things that are real to us. It means so much to know that could somehow help other people with whatever they're going through in their own lives." Their music is so perfect for a nice existential crisis drive, suitable for overthinking relationships and fleeting moments of romance that you can't get out of your head no matter how much you try.
"the car" is a great intro, a little bit funkier but still with that yearning and hint of desperation. This song sets the tone; happy, glimmering music is undercut by personal lyrics that you can relate to.
"you should probably just hang up" - I love happy songs with sad lyrics; I think that embodies all of this album—the trials of dating on a backdrop of soft, flickering melodies.
"(howitfeels)" - Love a nice interlude. The 80s synth track is like the tunnel bringing us into the next series; you can barely make out the muffled voices like foggy memories.
"not like you" - Nightly is so good at nailing modern romance, I think we've all been at the place where you're trying to replace someone, and it just doesn't work out because even though it's close, it's not the real thing.
"mess in my head" - A little slower jam here with echoing beats that build. Sometimes you just can't seem to get over someone, and without that closure, you are never the same. This song really builds instrumentally, it's very dramatic, and I'm here for it, totally caught me off guard.
"time online" - Yes! An Instagram love story, this one gives you all the flutters of budding internet romance. Flirty dms, loneliness, having a casual existential crisis, this is probably one of my favorite tracks because it feels so relatable. I think we all put a front online to feel better about ourselves, but it's just to overwrite the loneliness that we feel.
"whiskey" -Great Nightly ventures into Bro-Country, finally. Jk it's a  cute voice note that sounds like it was recorded in a car followed by laughs. I'm all about these interludes. I think it's a great way to break up a project and set the tone for the next song.
"summer" - summer romance at its finest; of course, summer romances always have an expiration date, and they're forever trapped in hazy memories that you'll never get back because it's not the same. Nightly is excellent at capturing nostalgia; with the listing of little details, they make it so real.
"older" - soft acoustic strumming bring us into that quarter-life crisis attitude that seems to be an underlying theme of this album—thinking about the different paths you could've taken and where you would be instead. Fate is funny that way; I believe we are all bad at getting older. Confessional pieces like this are really sweet, and it shows their struggles as a band. I think that's why their fans are so loyal; they don't hide anything from them.
"turnpike" - Oh wow, a pleasant trancey interlude to zone out of my overthinking for a second.
"so sly" - lots of 1975 vibes here, and we're not mad about it; light guitars and spacey drums with vulnerable lyrics. Another song, another heartbreak, and
"lose a friend" - "Don't be friends with your exes!" - is what my friends yell at me constantly. I don't know if this song is about an ex, but I totally feel it. The worst part of any breakup is losing the friendship, and I don't think you have to give that up. The repeating of that phrase "lose a friend" is almost hypnotic.
"the movies" - Such a jam; I love this song; it just feels like that perfect, rare love that you see in the movies, and the music embodies that. It's dreamy, it's perfect, and it's a desperate cry to make it feel just like that like you're in the movies. If only you can work it out.
"i got so much to tell you" - Dreamy dreamy dreamy, so good with all these specific details, it feels like poetry. We've all been there, the "who is going to say it first" moment, but feelings are complicated, life is difficult, and sometimes the words don't come out. This song feels almost like a cliffhanger. The repeating of "I got so much to tell you" is a looping buildup that leads into a void. We don't know how it ends, but we'll stay tuned.
Follow Nightly on Instagram and Spotify and listen to the new album now!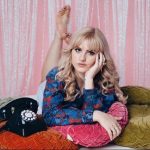 Emily Treadgold