Willow Raye's soft voice is almost like a whisper, it's so ethereal and light and when put over the gentle guitars in "Dark Waters" it's the perfect combo.
Her new video for the track perfectly compliments the song, Willow Raye looks like an angel against the dark background, floating in an ivory dress. It's a gorgeous juxtaposition and something that sets the up-and-coming artist apart. It's dreamy but with darker undertones, just a hint of mystery.
She says, "Dark waters is a song about desire and loss. I wrote this song on my kitchen floor about wanting someone to hear me out, knowing that will never be the outcome but still entertaining the idea that they might."
Follow Willow Raye on Instagram and Spotify and watch the new video now.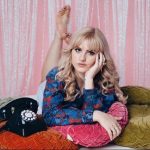 Emily Treadgold