WizTheMc is definitely someone who needs to be on your radar. His ability to effortlessly blend genres is a true talent and his authenticity shines through every song. He radiates this super chill vibe, but his songs just burst with an undeniable vibrance. We talked to him about his music, what inspires him, and his trippy new video for "All My Friends Are Stoned."
How did you get started in music?  
WizTheMc: Initially, through YouTube, I was obsessed with rap and searched "How to rap better than your friends" and followed the instructions.
How did living all over the world influence your music?
WizTheMc: I would say it gave me lots of perspective on how people live in different circumstances and environments, which helps me write songs from different perspectives. Besides that I always create my own world in whatever room I am, no matter where I am physically. 
Tell me about your new EP "What About Now" how did it come together? 
WizTheMc: Most of the songs came together in the summer of 2019 with the help of Hugo, my producer over in Germany. The song "All My Friends Are Stoned" was made in Toronto with Jeff Hazin.
Tell me about your song "All My Friends Are Stoned," what's the story behind it? 
WizTheMc: Well, I used to be a huge stoner in my highschool times, and this song is a nod to those good old times where me and my homies would just smoke and play video games and watch movies. I didn't rap too much about smoking weed before I left Germany just so it would be appropriate content for my family. This one is for my homies and my highschool teachers who never thought one could get where I am whilst smoking weed. Not recommending it to anyone- it's just part of my story.
Tell me about your video what was the inspiration for it?
WizTheMc: I always loved the idea of parallel dimensions which is heavily inspired by Rick and Morty. I remember so many evenings where me and my friends would get stoned and have these amazing, almost surreal experiences of reality, but the next day all of that was gone. This video describes the feeling of experiencing something but not being sure if it actually happened.
How important are visuals for you? Do you have a specific vibe you like to aim for?
WizTheMc: I always aim to have the video tell the part of the story that cant be captured by the words. The visuals are like the movie to the soundtrack. I'm really into the art of filmmaking and studied my fair share of projects to know what I'm after. I love super authentic visuals and surreal visuals where the boundaries of reality are bent. 
What has been one of the biggest challenges for you in the music industry?
WizTheMc: Accepting that everything comes at its time and that blowing up isn't in your hands- but making better music is.  
2020 has been difficult to say the least, how have you been staying motivated this year?  
WizTheMc: I always loved staying inside and creating my own world in my little studio- so it gave me a chance to embrace that feeling on a whole different level. Making the best out of what's in front of me has kept me motivated. I don't need much to live or make music and luckily great art gets made in difficult times. 
What's your best piece of advice to your younger self? 
WizTheMc: Don't stop believing in your dream. You have no idea what blessings are around the corner.
Anything else you want to share with your fans? 
WizTheMc: I love you. Thank you for listening and sharing.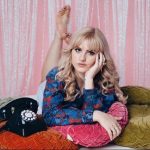 Emily Treadgold