Nuela Charles has such a distinctive, hypnotic sound. Her song "Space," is a musing on the duality of space, how much we need, and how much we crave closeness, but we need that time with ourselves. We talked to her about new music, staying motivated, and the challenges in her career.
How did you get started in music?
Nuela: I started in music as a teenager, when I picked up my dad's acoustic guitar and started teaching myself how to play it. This eventually led to learning to write songs and record myself on GarageBand. 
Tell me about your song "Space" what's the story behind it?
Nuela: Space came out of a writing session with multi-platinum/diamond record producer Don Mills (Giveon, Snoh Allegra, Juice WRLD) and was completed by JUNO Award Nominated producer/mixer Ryan Worsley (Dear Rouge, MONOWHALES).  The song is an honest knee-jerk reaction to being told that the solution to your relationship problem might be to take a step back and give each other some space, but everything in your soul is telling you - nah, I'll do anything but that, 'cause that ain't it. 
I love how the song so perfectly fits a lot of quarantine experiences. Why do you think we all need a little space sometimes?
Nuela: As much as we all need people in our lives, I think it's important to be ok with who you are alone. I think that's when you're truly able to be whole, and be the perfect partner to someone else. Quarantine however is another thing – in a time where no one really knew what was going on – for those of us living alone, we probably all would have loved someone with us. 
How have you been staying motivated to create this past year?
Nuela: If I'm honest the remainder of 2020 was chill. I didn't create, or force myself to create. While everyone was having multiple livestreams a week, I knew this was my chance to take a break with no pressure to be "on". With 2021, I'm more ready to get back to it, and to come in fresh.
 What else has been inspiring you?
Nuela: I really like watching movies, albeit I tend to re-watch my faves over and over. I'm a big observer, and in most situations would rather just listen, than talk, so I love visual performances, visual artists, and anything of that nature
What has been one of the biggest challenges in your music career?
Nuela: If I'm totally honest, it's has been being a Black woman in Canadian music who doesn't make the traditional R&B music. The constant phrase I would hear was "we don't know what to do with you." And I wasn't even able to build a team until after I was nominated for a JUNO Award three years in a row, and I did that by myself. 
What's your best piece of advice for young women?
Nuela: The most important thing I could say is, believe in who you are, and the value you bring into this life. If you have a dream, go for it, and don't stop until you get there. Outwork everyone, and be grateful for everything.
Follow Nuela Charles on Instagram and Spotify to stay tuned.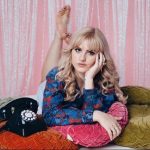 Emily Treadgold