Coming off of their three-part EP series DISHARMONY, the South Korean boyband P1Harmony is back with the first part of their new project, "HARMONY: ZERO IN," featuring their lead single and electric new video Doom Du Doom. The group talked about their favorite parts of the creative process, how they stay grounded through their success, working together as a group, and dream collaborations. 
Can you walk me through the new single "Doom Du Doom" and tell me the story behind how you all made it?
Keeho: We just finished our first three-part series and officially started our new Harmony series. That's pretty much where we're getting our inspiration from, and that's where we're starting our storytelling and concept. We want to talk about embracing your own uniqueness, youthfulness, and freedom, and that's ultimately the concept we took behind our new single Doom Du Doom.
The video for the single is really fun. Can you tell me more about it?
Keeho: The way we portrayed that same message conceptually and visually was by putting our twist on the Olympics. Instead of following the regular rules of sports, we had scenes, where Intak plays baseball with a guitar or Jiung plays golf with a grenade. That's our way of showing that you can do whatever you want and be unique.
What was your favorite part of making the video for "Doom Du Doom"?
Jongseob: First, my favorite part was the scene that was filmed from the body camera in the laundromat. The second part was Theo's scene when he did the Nike commercial parody. That was impressive.
Your group is hitting incredible milestones, having sold out your US Tour in less than 30 minutes and continuing to define your sound while building a loyal audience. How do you stay grounded as a group?
Intak: It's the thirst for wanting to constantly be better. We're very grateful for the past and the achievements that we've come across along the way, but we're always trying to find new ways to be better and do better. That's what keeps us humble and want to continue improving.
Is there a specific artist or group that you try to model you all model your sound & choreography after?
Keeho: The places that we get inspiration from are all so very different, that's what makes us into a group and helps us mash everything together. We can go through one by one and name them off!
Intak: Asap Rocky & Michael Jackson
Keeho: I like SZA, Daniel Caesar, Frank Ocean, I love Arianna Grande, Pop R&B artists.
Jongseob: I really like JID. This is a hard question. I'm into Kendrick Lamar, Joey Bada$$. I love all music. Dance, R&B classics.
Jiung: For me, I really like Justin Bieber, Post Malone
Going off of that question, who would be the group's dream collaboration as a collective?
Keeho: I think we'll all have different answers, but I'd say, Pharrell Williams. I would love to work with Pharrell. Once you have a song with him, that's how you know you've made it. Everything he does is ahead of its time.
Following this new EP and video, what's next for P1Harmony in 2022?
Theo: A lot of our fans can expect us to continue improving on stage since we spent a lot of time away during the pandemic.
Soul: Since the pandemic is over, we have a lot coming up. We have KCon in LA and House of Wonder in Korea.
Keeho: We hope that a lot of people come out to see us and hopefully release a new album. Going around the world and performing is the goal.
Lastly, what's your favorite thing about "P1ece," your loyal fanbase?
Jiung: We love that they appreciate our performances. They know how to have fun and be energetic overall. They're the best!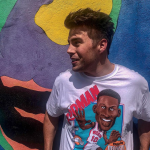 Logan Lazorka
Growing up in a suburb of Detroit, Michigan, my earliest memories of music were deeply linked to classic Motown records. As a kid I used to write my weekly middle school current events on album releases or pop culture news. Being jealous of my older brothers musical abilities I always knew I wanted to be involved in the storytelling side. I bought my first camera in 2016, after talking my way into covering a show on Mac Miller's Divine Feminine Tour for my school magazine. The rest was history and I've been hooked on capturing my favorite artists since! By day I work in digital advertising and by night you can find me popping up at shows around Austin, TX with my camera to capture it all!