Peyton Stilling's voice is absolutely haunting and her song "Healing" is the message we all need right now. We've all been at that point where we're doing whatever we can to forget someone, the sultry beats, and relatable lyrics really drive this home. We talked to her about breakups, music, and staying motivated.
How did you get started in music?
Peyton: I started writing music when I was 15. I went to my first open mic night when I was 16 and got to sing one of my original songs. That was the moment I knew I wanted to do music.
Tell me about your song "Healing". What's the story behind it?
Peyton: Healing was written during quarantine. I'd just broken up with my boyfriend and had to move back in with my parents, and I had no money or job. I had all of this time on my hands but felt no motivation to write anything. The track is a form of self-therapy, helping me to come to terms with a difficult situation and simultaneously reminding others in similar circumstances that everything will be ok. If there is anything I learned in 2020, it is that healing takes a long time. I wanted to write a song that made other people going through what I went through not feel as alone.
I feel like we've all been in a slump during quarantine, how do you stay motivated to create?
Peyton: I stay motivated by listening to new music, making to-do lists, and creating small goals to accomplish each day.
How have you been taking care of yourself lately?
Peyton: I have started to prioritize nights to myself. One day out of the week I will journal, watch my favorite show, do a face mask, and try to go to bed early.
What's the biggest challenge you've faced in the music industry?
Peyton: Biggest challenge I have faced is learning to listen to my gut. Learning to trust my intuition and not let too many opinions affect the decisions I make for myself.
What's your best piece of advice for young women? 
Peyton: Trust your instincts and go after the things you want.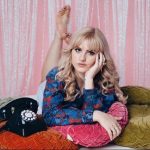 Emily Treadgold