It was a cold night at The Greek when Phoebe made her homecoming. The Aries moon loomed over the audience decked out with skeleton t-shirts and doc martens.
Charlie Hickey opened the show and even brought out his "boss" Phoebe for a couple of songs, and the whole crowd instantly cheered. He said thank you to her adding, "That was majorly solid of you," before breaking into his song "No Good At Lying." It was the perfect taste of what was to come.
Phoebe came out to the iconic "I've Got A Feeling" by The Black Eyed Peas. She was dressed in her iconic skeleton gear she as opened with "Motion Sickness," her fans immediately lost it, singing along, transfixed.
When she breaks into "The Garden," the moment when she repeats, "I have everything I want," you almost believe her as she looks out into the audience singing back to her. She's just taking it all in, and she tells us, "Turns out screaming every night on tour can fuck up your voice, so if you hear yodeling, it's festive," she starts the gentle intro to "Punisher."
It's hard to think of an artist who has had such a meteoric rise. Phoebe became a sensation in a year where there were no shows, a year where we were confined to our studio apartments battling our own inner Desmond, and we looked for a reflection of those times in our music. "Punisher" became a soundtrack for those days we paced the kitchen floor and cycled through memories and mistakes. With this tour, there's a kind of catharsis that washes over the crowd. The songs that have kept us company in our most depressing days spent alone are now sung together.
Set List:
Motion Sickness
DVD Menu
Garden Song
Kyoto
Punisher
Halloween
Smoke Signals
Chinese Satellite
Moon Song
Savior Complex
Funeral
ICU
Scott Street
Me & My Dog
Graceland Too
I Know the End
That Funny Feeling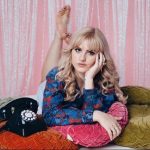 Emily Treadgold