Ed Note: Ryann is an avid Bastille fan and I've been receiving very frantic emails from her about her frustration of not knowing when their album was finally releasing. It's been a long time for a band to finish their sophomore album, and the anticipation honestly has me worried about her sanity. Here, we join her on her quest for their album Wild World.
If you're a Bastille fan like me, you have been waiting YEARS for their follow up to 2013's All This Bad Blood. Back at the end of 2015, the finally released the first trailer for their second full length album, which we now know is titled Wild World.
When I first saw the trailer I thought to myself that the album launch couldn't be more than a month or two away. This hopeful thought was beyond false. It would be another almost six months before we received any kind of information.
Maybe I'm just being greedy. It's not like Dan, Kyle, Will, and Woody haven't given us a taste of Wild World, because they absolutely have. For over a year now they've been playing "Blame" at live shows, and more recently adding "Hangin', Snakes", and "Currents" to their set list. Four is a generous number of songs to release so far out from an album drop, and I will definitely take what I can get, but with Bastille, I just can't get enough.
Finally, in the last couple of weeks, the guys have begun to amp up the Wild World marketing. They released the album name, then last week they launched an incredibly strange Facebook promo, where you could "message" the band. I was disappointed to see that it was an automated riddle of sorts.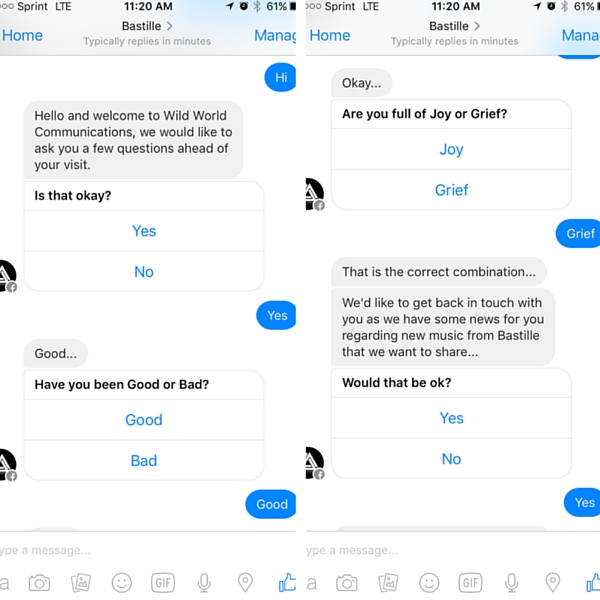 Okay, but what did this MEAN?! After my final "Yes" the automated response was that they "would be in touch soon." The answers to the riddle were "Good Grief", which many fans correctly speculated as the name of the first official single from Wild World. Thursday, June 16, Good Grief hit airwaves at long last, and I must say, I am not disappointed. It's SO catchy and will be guaranteed to have fans jumping and dancing along.
The final piece of the puzzle that is still missing is the official album drop date. We're about a month out from Lollapalooza, and if I don't have Wild World by then, I will be very disappointed. However, I'm remaining optimistic that I will somehow know all of the words to the album in time for their Lolla set as well as their official after show set.
Stay tuned for updates on my quest for Wild World.
[widgets_on_pages id=Ryann-Miller] [adsense]
[adsense]