SENSES new song "gonna make sure," is instantly infectious. You can just feel the energy radiating through their music. The up-and-coming band knows how to make a song that feels so personal but behind those shimmery melodies. We talked to them about the origin story of the band and the acts that inspire them.
How did senses form? What's the original story?
Nick Sampson: We met on Craigslist! Madison had put out an ad looking to start a project, Nick responded first and then Josh. We all had similar influences and visions for the band so it just fell into place.
Tell me about "gonna make sure" what's the inspo behind the song?
Nick Sampson: Well it's definitely inspired by a relationship. It's about getting your heart broken, being angry and just that period of time where you don't want to be the bigger person. I think we all definitely wish just a little ill will on the other person for a moment after a break up.
Congrats on the release of the video! How did you come up with the concept for that?
Nick Sampson: Thanks! We had spoken with Erik (the director) about where our heads were at creatively and he came back with this treatment that we immediately loved. We knew that we wanted to capture something playful, dark but also fun and we did just that.
What has been the biggest challenge for you in your career?
Nick Sampson: TikTok haha
What else has been inspiring you lately?
Nick Sampson: All the tours happening right now and the ones that are just being announced. Beyonce, Blink 182, Fall Out Boy, P!NK, The 1975, Paramore. So many legends are on the road right now and it's just inspiring to see.
What songs are on rotation for you right now?
Nick Sampson: The new ILLENIUM album, MUNA always, Bring Me The Horizon.
Who would be a dream collaboration for you?
Nick Sampson: There's honestly so many we would love to collaborate with. We love Waterparks, Miley Cyrus, Blink 182, Boys Like Girls, LANY. The list goes on.
What's next for the band?!
Nick Sampson: Our EP is finished and will be out soon! We are also looking at hitting the road. 🙂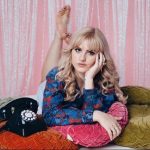 Emily Treadgold