Talia Jackson is sure to become a household name. In fact, you might've already caught her as Jade on the NAACP Award-winning Netflix show, Family Reunion. Aside from her impressive acting career. Her latest single, "YOU", exhibits R&B and pop sounds amidst heartbreaking lyrics and impressive vocals. "YOU" showcases her prowess as a songwriter, and proves that she's an upcoming force to be reckoned with in the music industry. We were lucky enough to chat with her a bit about her musical background, acting career, and exciting upcoming projects! If you haven't yet, go check out "YOU" on your desired streaming platform!
To start off, can you give us a bit of background information about your overall journey into the entertainment industry?  
Talia: My first introduction into the entertainment industry started when I was six when my mom met with a modeling agent at Ford and a commercial agent at Abrams for my brother and me. At the same time, I was touring with Andrea Bocelli on his Christmas tour and did that for two years. But theatrically, I was auditioning for 10 years without ever really booking anything but an ABC pilot that didn't get picked up. My first booking was my role of Jade on Netflix's Family Reunion.
If you had to choose between music or acting, which would it be? 
Talia: Oh wow, that's always a tough question but I finally know the answer and it would definitely be music, only because music is something I can always rely on, I can always make a song but I can't always be working on a set. Music is something I feel I have more control over, for example when you book an acting job you are playing a character that somebody else created, in music you are playing yourself and you have all of the control, from the track to the vocals.
How do you feel your acting training helps you as a singer/songwriter and vice versa? How different or similar do you feel they are to each other? 
Talia: I think my acting has definitely helped my songwriting skills because growing up all I would do is read Scripts and I feel like writing a song is like writing a movie all packed into three minutes with no visuals. I've been fortunate enough to have both my loves (acting & singing) cross paths, so to me they are not very different. You are performing in both and everything you do is for the entertainment purpose of others. You're using your trauma/pain/life experiences to fuel your performances in both acting and singing.
How do you tap into your emotions when songwriting? Do you have a typical process you move through before writing a song? 
Talia: I don't have a typical process, sometimes I write in pieces, and other times I have a burst of creative energy and will write a whole song in 20 minutes. Most of the time my songs come from random things I think about throughout the day that I write in my notes. I like to think of my songs as little calendars to myself, reminding me of how I felt back when I wrote it. I am a super emotional person and everyone who is close to me knows that because I am constantly sharing my every thought with everyone around me whether it's sad, happy, anxious, or hurt I'm constantly sharing my emotions, so when I write, it all just kind of flows from my life experiences.
Who are some of your biggest influences in music today? Also, who would be your dream collaborations? 
Talia: Lana Del Rey, Melanie Martinez, Jhene Aiko and SZA. I would love to work with Tame Impala or The Neighbourhood too!
I love your latest single, "YOU"; the vocals, the lyrics, everything. Can you tell us a bit about the inspiration behind it?
Talia: It was inspired by hurt and healing, and knowing you deserve better but being afraid to leave. I wrote this song when I was in a confusing place because I knew I deserved better than what I was receiving but I wanted that better to be him. But it was this back and forth relationship where I would get ghosted and then he would be back in my life like nothing happened.
Can we expect to hear more from you in the near future? Any exciting projects you can tell us about? 
Talia: Yes! I am working on a rock project with my brother, and I am working on an EP and album, plus I'll be releasing a single every month this year.
Watch her video for "You" and follow Talia on Instagram and Tik Tok to stay tuned.  Also, keep an eye out for her upcoming projects as mentioned above, and be sure to check her out as Jade on the Netflix show, Family Reunion!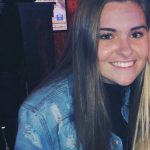 Grace Kuraska
For as long as I can remember growing up, music was constantly blasted throughout the house. My parents' love of music introduced me to pop and rock idols and icons of the past, setting me up for a life of fangirling over a confusing range of artists, from Fleetwood Mac to One Direction (still mourning the loss of the latter). I could spend hours at a time binge listening to albums, and researching new artists. Follow me on insta @gracekuraska.