I attended the Friday and Saturday night shows of The Eras Tour in Philadelphia this weekend. In a sea of 70,000 people adorning glitter, sequins, and Barbie pink, I watched as Taylor Swift performed the show of a lifetime in her hometown, in a sold-out football stadium only 90 minutes away from where she grew up in Wyomissing, Pennsylvania.
Long story short, here's my Taylor Swift love story: I first heard Taylor's voice in the courtyard of my high school when I was 14. A friend lent me her earbud while we waited for class, exclaiming that I had to listen to this blonde Country singer. I don't like country music. I remembered retorting. Nevertheless, she persisted, changing the course of my musical life forever. My memory isn't the best with details, so I can't remember if my first song was "Tim McGraw," "Teardrops on my Guitar," or "Our Song," but it doesn't matter.
Like many great love stories, my love for Taylor's music has changed throughout the years and has been a steady presence throughout every era of my life. It has carried me from dark high school hallways to my apartment in the big city; from first dates and first love, through heartbreak and beginning again. It helped me find my independence and my voice, gave me dopamine and hope when I needed it most, and lifted me from dark spells. I woke up on my 30th birthday to the announcement of Midnights, and I knew my 30s would be the decade I desperately wanted because it was starting with Taylor.
I've been to several Taylor shows throughout the years, but now that I've experienced The Eras Tour, I can state that this is unequivocally the experience of a lifetime that none of us will experience again. It wasn't until this weekend in Philadelphia - dancing around the city with my long-time best friend who has been by my side as long as Taylor has - that I realized what makes The Eras Tour special is not that we're celebrating the distinguished career of a music legend, but we are celebrating our own lives and our own journeys through music, no matter how long this music has been with us or how old we are. When you're in a crowd of fans at an Eras show, or you're running through the tourist sites in town after traveling hundreds or thousands of miles to be in the room, you're connecting with fans from all walks of life, of all ages, all there to celebrate the same thing: music.
Taylor starts off The Eras Tour by saying, "Tonight, we're going to be going on a grand adventure one era at a time…some of these may be songs that may have started off being about my life or something I wrote about how I felt at one point…but the most important thing and my biggest dream is that when you sing them tonight, they'll be about you and your life."
She achieves that dream because the beauty of The Eras Tour is not in the 3-hour show but in capturing and tasting each moment of the overall experience. Every interaction and scream of "I love your outfit!" in the stadium, every knowing look shared on a train or plane, every smile shared between Swifties wearing The Eras Tour merch at crowded tourist stops. 
My favorite moments from The Eras Tour are not the show but the people I met along the way this weekend, including:
A 16-year-old at Angelo's Pizzeria (Side note: If you're in Philly, go for the cheesesteaks) who traveled from Raleigh with her family to celebrate her Sweet 16 at Friday night's show - her mom proudly showing off photos of the decorated hotel room they had for her.

An 18-year-old celebrating her birthday at Saturday night's show, and her mom who explained she had attended the Nashville show the weekend before with her older daughter, who flew off for a month-long trip to Europe the next day.

A mom and daughter duo, while waiting in line for the Liberty Bell, who shared they drove up from Richmond, Virginia, late Thursday night to attend Friday's show after the daughter was stuck in a 6-hour lockdown at her school because of a gun threat that delayed their travel by hours.

A little girl in a princess tutu - crown and all - exchanging a friendship bracelet with a preteen.

A woman, likely around my age, and her husband, who profusely thanked me for getting the pun between his "Holiday House" shirt.

A fan who hand-painted and cri-cutted a denim jacket with all ten eras, sharing it off proudly on the SEPTA on the way to Saturday night's show, tearing up when everyone showered compliments on her craft and talent.
Taylor's music is incredible, but what makes Taylor Swift and The Eras Tour stand out is the feeling of connection she's created between fans, between strangers. Taylor may be the greatest singer-songwriter of our generation and go down in the history books as one of the greatest of all time - a hill I will die on - but she's also provided thousands of people not only the soundtrack to their lives but a way to connect over the shared love of music and storytelling. 
At its core, The Eras Tour is a celebration of love, of friendship, of the very essence of being a fangirl. It's why thousands of people are finding joy and happiness dancing in the parking lot outside the stadium across cities - to walk through the parking lot of Lincoln Financial Field brought me a sense of community and joy I've only ever experienced tailgating before football games at the University of Florida (Go Gators!). 
To be a Swiftie is to be part of a community of love, kindness, and happiness, and that's joyful whether you can be in the room for the show or scream it outside from the parking lot. In a world of so much darkness and despair, of a million reasons to feel weighed down every day, The Eras Tour is light and happiness. 
Taylor closes the Lover album with the spoken words, "I wanna be defined by the things that I love, not the things I hate, not the things that I'm afraid of, not the things that haunt me in the middle of the night. I just think that you are what you love." 
Through The Eras Tour, that's what she has created. A celebration of love, of connection, of the music that's shaped our lives, shared with hundreds of thousands of people over 52 nights. What a fucking legacy, indeed.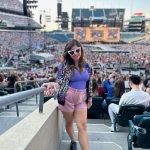 Mina Radman
I'm named after a song, so you can say my love for music began in the womb. My first CD was by the A*Teens and the first song I remember explicitly loving was "Sometimes" by Britney Spears. My love for fandom began as a preteen with Kelly Clarkson and Harry Potter. These days, my heart belongs to Taylor Swift, I'm forever a Jonas Brothers woman (Joe forever), and I'm still delusional that One Direction will reunite from its break. I work in PR by day, and I spend hours every day listening to music - full disclosure, it's usually Taylor or Disney, or something related to Taylor or Disney. Follow my fangirl babbles on Twitter: @mina_radman