Halsey announced her upcoming album titled, If I Can't Have Love, I Want Power in a statement she wrote, "this image is my means of reclaiming my autonomy and establishing my pride and strength as a life force for my human being." It's a bold image, and even the headlines that accompanied the news verged on inappropriate: "Halsey frees the nipple to honor motherhood in the new album cover," "HALSEY REVEALS NSFW ALBUM COVER" classic click-bait that ignores the focus, Halsey's body is a vessel for human life, her breasts are going to provide food for her baby, but that's not all she is. Halsey has spoken about her endometriosis and has experienced several miscarriages, and this pregnancy is a sign of strength and resilience.   
Madonna/Whore Complex
Halsey brings up the subject of the Madonna/Whore Dichotomy. Defined as, "Men who perceive women's nurturance and sexuality as mutually exclusive endorse patriarchy and show lower relationship satisfaction." Men's perception of the female form would mean Halsey can't exist in both, she's the NSFW album cover or the nurturing mother, but her art says both. If I Can't Have Love, I Want Power; the title perfectly exemplifies her outrage at the idea. In her statement, she explains, "The idea that me as a sexual being and my body as a vessel and gift to my child are two concepts that can coexist peacefully and powerfully." Trent Reznor will produce the album, and contradictory to the softness and nurturing nature motherhood portrays, this album is veering into the pop-punk realm. 
Changing perceptions of pregnancy and motherhood
When Beyonce unveiled her pregnant belly at the VMA's in 2011, it was a moment. She was glowing, giving an incredible performance of "Love On Top." It set forth a revolution for the pregnancy reveal moment and a change in the industry at large. It wasn't that long ago that Madonna was pregnant in her "Music" music video and her "You Must Love Me" video. She continued to work and hid her pregnancy in the footage. It's not clear if that was a conscious choice from Madonna or something that was just the standard, but it definitely wasn't the announcement it is now. With Beyonce, Cardi B, Nicki Minaj, and others not only making their pregnancy part of their publicity but going on to performing and creating iconic moments in their careers. They showed that pregnancy isn't a deterrent to their art but a crucial part of their legacy. While there's still a long way to go, every step is progress.
The "Having it all" trope
Until recently, pregnancy was perceived as the death of a music career for women. In Nobody Ever Asks Me About The Girls, Lisa Robinson details the trials of women who decided to have children and those who chose their careers. Stevie Nicks said, "I've pretty much given up my life for rock and roll, and maybe to spread a little hope and joy with my songs. But I haven't been able to do a lot of things with that." Dolly Parton has expressed similar thoughts. Then you have superstars like Adele, who detailed the depression that surrounded having children. The constant pull towards her career and the guilt of bringing her child on tour. 
Artists on Adele's level can fly their children on private jets and set up areas for them to be with them, but that's not a possibility for everyone. When the trope of "having it all" gets paired with the struggle of being a woman. While men should also carry this burden, Men are rarely asked about being torn between their careers and fatherhood. Anita Baker once said, "Men can't feel this way. It wasn't inside their body, it didn't share their heartbeat." It's a different feeling of guilt to choose your career over more time with your children. It affects the touring schedule, the recording process, every aspect of their careers. 
Motherhood As Power
This brings me back to Halsey and the album title. "Power" isn't something that we associate with motherhood enough. Women have the ability to create human life, but at the same time, being a "mom" isn't treated as having power or strength. At times, it doesn't even seem like a choice. It's like women are pressured into having children but then when they do, it's seen as less than their careers or as something that ends their careers. The two can coexist together. Motherhood should always be a choice, and it should be seen as powerful. Breastfeeding shouldn't be seen as something to hide but as something beautiful. Women have spent so long ashamed of their bodies and covering up when they should be glorified.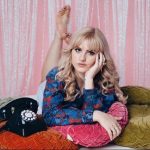 Emily Treadgold