As a director and costume designer whose creativity has been informed by her roots in live performance, Maria Garcia brings a level of theatrical sensationalism to her work. Recently, Maria Garcia used her skills and artistic vision to bring Gal Musette's music video, Je vois le ciel, to life. Maria served as the costume designer and director for the music video. This marks Garcia's second collaboration with Gal Musette, their first having been the award-winning music video, Julia, which Garcia also designed and directed.
In addition to her regular works, Maria is a member of the Costume Designers Guild and is on their Diversity Committee. She has also worked as a costume designer for the award-winning Theater of the Oppressed company Cardboard Citizens. Her interdisciplinary skill set as a writer, director, and costume designer culminated in the live art film project Laocoön with Cabiria at 9, which was made with performing artist Samantha Mohr, musician Grace Freeman and her frequent collaborator, cinematographer Wesley Cardino. The project premiered at REDCAT's NOW Festival in January 2021 and was a semi-finalist at the London International Web and Shorts Film Festival. 
Read on to learn more about Maria's impressive and inspiring creative career journey in both costume design and directing.
How did you get your start in directing?
Maria Garcia: I began my career as an interdisciplinary artist working as a costume designer for theatre and dance and at the same time writing and directing my own live art work. Transitioning into directing music videos alongside my other work has been an exciting challenge and I feel very at home in this short-form storytelling. I'm excited by all of the opportunities to create new worlds that music videos have to offer, and it's so nice to have the music and everything the artist brings with their craft to work with. I'm always interested in honing in with the artist so that we can arrive at our shared goal of whatever it is we are interrogating together.
As you made your cross-over from costume designer to director, what's been your biggest challenge?
Maria Garcia: Having the opportunity to collaboratively lead a project from inception to realization is a great responsibility that requires focus, dedication, and an understanding of many different story-telling devices. When I'm making work it's important to me that I'm carefully crafting and considering the entire image. Costume is a crucial part of that, and has always played a major role in any stories I am telling and collaborating on. So continuing to invest in this device full of endless possibilities is a priority from the outset. Additionally, working with talented artists like Gal Musette and Wesley Cardino has created many openings creatively, and opportunities for reflection as a director, costume designer, and a collaborator. 
Tell us about the music video for Gal Musette's "Je vois le ciel," and how you came to direct it? 
Maria Garcia: Our cinematographer Wesley Cardino and I had worked with Gal Musette previously on some of my live art projects and when Gal Musette was working on her last record Backwards Lullabye, she reached out to us both about directing and shooting a music video for "Julia." Gal Musette is a really inventive and beautiful artist and we were very excited to work with her again for "Je vois le ciel." Like "Julia," the song is so expansive and thrilling. The music video follows a woman overcome with boredom and loneliness - every day is the same. Taken by surprise by a couple seemingly very much in love, Gal Musette goes to great lengths to follow and document their every move, intoxicated and overtaken by the act of watching and being watched. Her newfound intoxication becomes so powerful that she herself transforms, disappearing completely while simultaneously becoming someone else.
What kinds of themes can we see in Je vois le ciel?
Maria Garcia: For the "Je vois le ciel" music video we investigated themes of isolation, fantasy, and time, following and being followed, and revealing and concealing. One of the characters Gal Musette plays is this sort of carnivalesque figure which we called amongst ourselves 'The Venetian.' This symbolic character provides an opening into the sort of the ritualistic height of her pleasure in finding disguise and disappearance. 
What's been inspiring you artistically lately?
Maria Garcia: I'm often inspired by music, words, and photography. However, sometimes I become intrigued by a story someone else has told me or the storyteller themselves. For "Laocoön with Cabiria at 9," which we made with brilliant performing artist and choreographer Samantha Mohr with support from REDCAT, the piece grew out of my fascination with a tour guide at the Vatican Museums and her telling of the brutal demise of the Trojan priest Laocoön whilst we stood in front of his marble statue. For "Je vois le ciel," Gal Musette's haunting song pushed us in the direction of medieval carnival and disguise. Right now I am listening to the opera Rigoletto and am being inspired by and pouring over its plot. I am holding on to my grandmother's Victrola records that belonged to her father. She is named Gilda after the opera's heroine and it was his favorite opera. 
What would you say your signature artistic touch is?
Maria Garcia: Kinetic costume, ritualistic transformations, and a sense of play. I am very interested in the symbolic and all of its richness. I think these are devices and themes that I continue to work through with each project.
Are there any memorable moments while shooting Je vois le ciel?
Maria Garcia: I think the entire experience sort of lived on the edge of transformation. I was definitely moved often during the process by the beautiful graphic landscapes we shot at and that Wesley did a stunning job photographing. It was challenging to make each world cohesive whilst also blending them together and having them push up against each other. There is a moment when Gal Musette is standing in front of these otherworldly dramatic cliffs as this sort of character who has completely disappeared into this world of carnival, and she lifts up her arm and methodically takes a photo. It was really windy that day and there was this brilliant movement of her costume juxtaposed with her sort of surgical precision in lifting her arm. The image was so haunting and has really stuck with me.
 What's one piece of advice you would give to a woman just starting out as a director?
Maria Garcia: If opportunities don't immediately present themselves then try and find ways to make work regardless. Creating opportunities for yourself for experimentation and play and finding people you can collaborate with and make work with is also crucial. What are your questions and what do you want to unpick? Figure those out and then go and unpick them yourself however you can.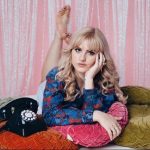 Emily Treadgold