Mae Mae's dreamy voice and effervescent melodies have been on constant rotation lately. Her new song "Green" feels so fresh, it just radiates her incandescent energy. We talked to her about her current song rotation and the story behind her new song.
How did you get started in music?
Mae Mae: As a kid, I always played around with writing, but it wasn't until I heard Brandi Carlile for the first time that I really wanted to pick up an instrument to write with.
Tell me about your song "Green" what's the story behind it?
Mae Mae: I wrote green in the midst of feeling pessimistic about the future.
I wasn't necessarily believing what I was writing at the time,  but rather trying to change my outlook through the process of creating it.
The song grew into its own thing that I feel really embodies the idea of looking ahead to greener pastures while sitting in the dead space of a creative rut.
What has been one of the biggest challenges in your career?
Mae Mae: Patience with the process, especially in the last two years. 
I've been working on so much music and I would finish it up and struggle with the space where I had to really plan out the releases while also not knowing when live shows were going to happen again. 
That was really hard. 
What else has been inspiring you lately?
Mae Mae: Going home to see my family in Colorado. 
What songs have been on rotation for you recently?
Pump Up The Jam - Technotronic 

Cute & Cruel - Tove Lo & First Aid Kit 

Peach - Mae Mae 😉 

You Can Have It All - George McCrae

Ignore Tenderness - Julia Jacklin 
What's your best piece of advice for young women?
Mae Mae: This changes in my mind all the time... Right now, it would be to start with whatever you're wanting to do. You're most likely going to mess up, and maybe even suck at what you're doing, but you have to start.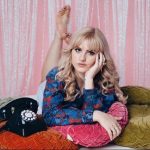 Emily Treadgold