The stigma that surrounds the term "Fangirl" has never been lost on us, but in 2021, it's evident that fangirls are (still) controlling the music industry and they're always ahead-of-the-curve on the next big thing. We talked to Jaime Bilotti about Fan To Band, which aims to not only hype up fans but get fans to work directly with the artists they love and their teams. 
How did you get started in music, and why did you start Fan To Band?
Jamie: I got into the music industry from being a fan first. I was that 7-year old who knew that I wanted to be a music industry executive, and although I got looks from my parents like, "Is she okay?" I am really blessed because I always knew what I wanted to do. I would always stay up on stan Twitter and be a part of fan projects.
In college, I studied pre-law with a concentration in entertainment. I never ever intended to study law, but I knew I could still use it as an angle. I didn't put all my fan experience on my resume. I was hyper-aware of the stigmas against fans and credit to not only my hard work but everyone who had no obligation to help me at all but did so anyway. I got my foot into the door at major labels, publishing companies, management, and my mind was blown that they were doing the same thing I was doing as a fan. I was exposed to so many outstanding fans with amazing ideas. Executives would put interns in the room and ask us what fans would want. All of those experiences made me think fan engagement is the next big thing. The pandemic gave me the opportunity to build a team.
So, tell me about Fan To Band, what all do you do?
Jamie: Fan To Band is an entertainment company that specializes in fan engagement and understanding a fanbase's needs. By giving fans a platform to voice their ideas and showcase their skills, we incorporate that insight into strategic and effective campaigns alongside artist teams. We use our socials to give fans confidence and hype them up. We have consultation, events- digital and hopefully in person, and have a lot of tech on the way. There's a lot to it, but there's no reason for artists and their teams to guess what their fans are thinking anymore.
So, I have to ask, what was your band that you were obsessed with?
Jamie: I was absolutely a One Direction fan. The culture of online fans being your friends was so big to me. I didn't have any friends that I knew from school that were One Direction fans. I bought two tickets and convinced one of my friends to come see them with me. The "This Is Us" doc is a constant source of inspiration.
If you're younger and you're a fan, what would their next steps be to become an industry professional?
Jamie: The crazy part is, you're already started if you're a fan. Put those experiences of street teams, of writing blogs, reaching out to fans, hosting zoom parties, any campaign, and those tangible skills on your resume because it's the same thing that people in labels and management are using. I would also say, just use your excitement to learn to guide you, and get over the fear of those stigmas pressed upon fans. Find people who empower you and support you and grow with them.
Do you think the culture is shifting tough?
Jamie: One hundred percent, fans have been placed on artists' teams whether they were hired as a fan or for professional reasons and didn't know they were a fan. It's been done. The thing is it's been wild is that they don't openly put it out there. The momentum is huge, and you already see it. 2021 is the year of the fan.
And even the term, fan and fangirl is becoming less stigmatized. 
Jamie: I assume that everyone was a fan. I couldn't come up with another reason that someone would get into the music industry. The stigma of fangirls specifically, because when a guy is a fan, it's like, "he's strategic" when it's a woman, "she's hysterical." People think that fans, who want to be professionals, can't control themselves, which is so far from the truth.
I feel like if you're not a fan, it's so hard to keep going in the music industry if you don't have that underlying passion.
Jamie: I agree. I could not have more of a dream job. I'm the hype man for everyone on our team. This whole thing could not be possible without anyone on our team. But just because you're living your dream doesn't mean that it's going to be any less difficult to get to your goals. That passion is a requirement.
What would be your best piece of advice for young women?
Jamie: It's advice I give myself every day, but just go for it! Half of the people count themselves out of the race because they don't think they can, or they don't have a place to start. I've been there, and I would not be where I am today without the people who had no obligation to help me but did so anyway. I know it's cliche, but go for it and learn along the way.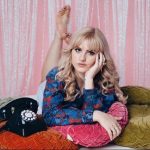 Emily Treadgold