For the last leg of their tour, the harmonic R&B duo, Mulherin invited Los Angeles to listen to songs from their latest project, Blurry. Twin brothers, Parker and Marshall Mulherin show a sense of modest confidence with every audience interaction. They call out their dad in the back of the venue as the "OG Mulherin" and pay homage to their Memphis roots. While both appear distinctly similar, each meticulously caters to their strengths and unique swagger. Aside from their euphonious vocals, each brother has a refreshing, unpretentious demeanor.
For being an opening act, the crowd knows exactly who they are and sings along to the words of "Anniversary." Two women are dancing in the crowd, gushing over every high note. One continues to sway as she holds her phone up to record the stage. Parker sings, she turns to her friend to mouth the words and swoon. The Mulherin twins without a doubt exude an effortless sex appeal and a passion for their craft.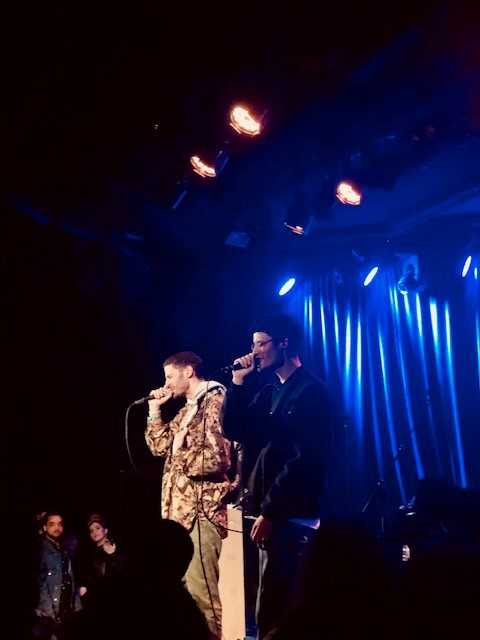 Mulherin at the Roxy Theatre is a different concert experience. You're not only there to appreciate the rare vocal talent and uncommon sound, but to also support pure artistry by knowledgeable professionals. The listener can tell Mulherin lacks a desire to write one radio-worthy hit and sell out for the fame, money, or glamour. Mulherin carefully articulates their art for the love of what they do, and what they are good at.
"All To Myself" is the simple hopeless romantic ballad with a palatable melody, perfect for performing. The audience can tell Parker and Marshall left their hearts on this track. The brothers also offer a fun transition with a cover of Usher's 2004 hit, "Confessions, Part II." While some may consider cover songs as a cop-out, Mulherin create a perfectly re-purposed rendition we didn't know we needed. The duo has proven themselves as strong standalone R&B artists, yet they aren't above successfully upgrading a cover.
This show was a relaxing change of pace. The duo meticulously wears multiple hats. They have the allure of R&B, the stage presence of hip hop, and a new wave style in their back pocket. Mulherin is a classic without mainstream fame, grass rooted in the fundamentals of music theory and practice.
Follow Mulherin on Instagram and Twitter. Listen on Spotify.
[widgets_on_pages id=Hayley-Tharp]