18-year-old Toronto-based artist Anna Sofia is wise beyond her years and unafraid to call her own shots. Her new EP Let Me Out I'mI'm Free! guides listeners through the journey of young women who fights to take back her creative control and be her true self in the music she makes. The EP is accompanied by a visual that she co-directed with her best friend and brings to life the story of her fight for freedom in an industry she felt controlled in. 
How did you get started in music?
Anna Sofia: I got started in music from a very young age as a dancer and piano player. I started at the age of 4, both weren'tweren't taken seriously for a little while, and it was more of a fun, after-school activity. I always sang in the house and in my bedroom. It was very casual. When I started competing in dance competitions, I did this ballet grading system called Cecchetti and was also in The Royal Conservatory of Piano, which I finished in grade 6. At seven years old, I asked my piano coach if I could start doing singing lessons, and that's when I started combining both together. Around 14, I started releasing music and building my team.
What were some of your musical influences growing up?
Anna Sofia: Personally, I don't think I had any growing up. My music changes very frequently. I love to explore new genres, so I have different influences for each genre I'mI'm exploring. But the two that will always stick around are Elton John and Queen. Their music has definitely influenced me, but it was more about who they were as people that influenced me.
This project tells the story of a time when you weren't able to share your creative vision or be your true self due to influences in the industry. Were those earlier projects entirely influenced by those outside voices, or do you still hold a special place in your heart for your past work?
Anna Sofia: Some songs I didn't want on those EPs, and some I really did want but didn't make it because others didn't want them on there. I do love that music. It was still a part of me that existed. And the lyrics are true, but personally, for some songs or the EP as a whole, I would have done some things differently. I took that experience of other people having a say in my music, what songs we put out, and how the production was going to be, and it taught me how to take that control back and prevent it from happening again. I have a clear vision of what I want, and I'm not going to let anyone change that for me.
How was the process for creating "Let Me Out I'm Free!" different?
Anna Sofia: It was very easy! Making the music and the videos were definitely not, but they were all my ideas. The video took a lot of planning, but it was a process that I enjoyed because I loved the challenge. If my team right now has an opinion and truly thinks something should be changed, I'm a very open person and love to have people's opinions. I just feel like now it's been easy for me, and as an artist, I want to enjoy the music I'llI'll be promoting and performing for the rest of my life.
What track from the project would you guide your listener to check out first?
Anna Sofia: The first and last songs we made for the EP "Caged Birds Don't Sing" and "Go" were both really special to me. "Caged Birds Don't Sing" was kind of my opening into this feeling and anger while learning to express it, where "Go" was my final say. To have the first and last song I wrote make it on this EP was really special for me. Those two were my most creative moments, in my opinion, and they both gave me such a good feeling. 
Can you tell me about the visual piece you created and what your favorite part of that process was for you?
Anna Sofia: The planning was my favorite. Anything you see in my room, the hospital in "Cruel World," and all of the outside shots were filmed in one day. The filming was tough. For "Surround Me," I had a show the night before and didn't get home until 1 AM. We filmed pretty much all day, so in between shots, when we changed scenes, I was napping on some really uncomfortable chair with bugs all over me. So definitely the planning; it was cool to plan out the process and work with my best friend who directed it.
How do you find ways to be comfortable with topics like anxiety and depression in your music?
Anna Sofia: Before COVID, I had never really experienced a mental health moment personally and never suffered from anxiety or depression. Over the pandemic, I developed pretty horrible anxiety and couldn't figure out how I was going to handle it. Fast forward to today, and I've been dealing with it much better. During that time, I was able to sit with myself and realize that this is something that's totally normal and not something to be scared of. There are other people going through the same things as me, so I can 100% talk about it, and no one's going to make fun of me for it.
What are the main ways you deal with anxiety?
Anna Sofia: I've said this to so many people, but I'm terrified of the dark. I sleep with this thing called a skylight, and it basically projects stars on my ceiling. So for the longest time, I had a hard time sleeping, and the dark fed into that anxiety. My boyfriend suggested sleeping with it on, and I started sleeping like a baby, which was really cool. For me, it was an eye-opener, and I found something that was comforting and helped the coping experience.
What would your advice be to people/ kids who face those same mental and physical barriers that prevent them from being themselves?
Anna Sofia: Talk to someone, I feel like people are way more open, and no one's going to judge you because, odds are, they deal with the same things too. Tell someone that you trust how you're feeling. Talking to someone is the most important part of starting growth.
What would be your best advice to young women in music?
Anna Sofia: I would give them the same advice that I'm trying to give in my EP. Don't let anyone take control of you, your art. Don't let anyone make you think that you're less or not as skilled. I felt that for the longest time, but don't let anyone come in the way of your art. Just stick to it, and don't let anyone get in your way.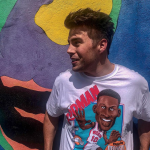 Logan Lazorka
Growing up in a suburb of Detroit, Michigan, my earliest memories of music were deeply linked to classic Motown records. As a kid I used to write my weekly middle school current events on album releases or pop culture news. Being jealous of my older brothers musical abilities I always knew I wanted to be involved in the storytelling side. I bought my first camera in 2016, after talking my way into covering a show on Mac Miller's Divine Feminine Tour for my school magazine. The rest was history and I've been hooked on capturing my favorite artists since! By day I work in digital advertising and by night you can find me popping up at shows around Austin, TX with my camera to capture it all!