As someone who thrives on discovering new music, I love when my TikTok feed curates new artists to my sounds. Erin Kinsey is no exception. She landed on my fyp during my Dolly Parton party prep and naturally had me wanting more. With each clip she previewed, I couldn't wait for her second single, "Just Drive" to drop. Within the first week, it racked up over 1 million streams so you know I had to chat with Erin about being viral and giving me the country bop we deserve. 
Erin, when you were teasing "Just Drive," did you ever imagine it would go viral overnight and resonate with so many people on TikTok? 
Erin: You know, I hoped that people would like it. I knew I liked it, so I did hope others did too, but I didn't think SO many people would connect with it. 
When you were writing the track was there a specific reason you went for the y'allternative country pop-punk sound? 
Erin: Haha, so yeah literally the reason the song references Paramore is because on the way to the co-writing session, I listened to Paramore the entire time. I walked in, told them I wanted to use it and I knew other country listeners have other tastes so it just kind of happened and we ended up with a product that I really loved. It wasn't calculated but worked out. 
Amazing! On the flip side of that, do you have a specific routine or process in creating your songs?
Erin: Generally, I have a list of ideas that I write and I just add as I go throughout my day. Normally, I'll walk in and either have an idea or nothing, and then once I start talking with my other writers, something will be sparked by that. 
When it came to "Just Drive," was there any personal inspiration for that track?
Erin: Yes! So um, I've been dating my boyfriend for five years and I'm only 20 and we started dating my freshman year of high school. It's been awesome to have him around for everything. The track pays homage to that part when you lived with your strict parents in high school, and the only time you had with your significant other was in the car. Like, we were either on the way somewhere, heading home, and even once I moved here, I just enjoyed the time where the both of us were driving - whether to a party or just doing whatever. 
That's amazing and so freaking cute!!
Erin: Yes! And this specific track was based on one of our high school anniversaries. We went to the Cheesecake Factory and got all dressed up and I just remember being in the car like, "I'd be fine if we didn't go. I just enjoy the drive." (We did end up going to dinner though, ha!) 
But, this song idea was sparked from just that I love my time with him and down to the details - like my white 4Runner all the way down to driving down I-40 in Texas. 
Seriously, this is just getting better and better. Down to the details of the track and your videos, it's obvious you're so authentic. Last but not least, what is something you want fans to know?  
Erin: Well, I have a German Shepherd named Joey and I am a dog mom. Aside from Josh, I am also from Texas and I just want them to know that I started out so young and that I always knew I wanted to do this. So even if you're the 13-year-old in the writer's room, know you can add value. 
Okay, NOW last one - what's next? 
Erin: Honestly, not really sure what my EP looks like, but that is next. I can't thank the fans enough. None of this would have happened without them so just continue listening to my music. It really means more to me than you know.
Follow Erin Kinsey on Instagram,  Spotify, and Tik Tok to stay tuned.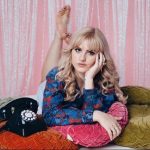 Emily Treadgold